Hey friends!
For this Weekend Challenge, we wanted to revisit a theme from a couple of years ago called
"Starting With Sound." But we're not just bringing it back because we're nostalgic: we're celebrating the release of our new Vimeo Original Toro y Moi: Live From Trona from nine-time Staff Picked director Harry Israelson, and the audio-visual feels are percolating. And that's why, for the first time in Weekend Challenge history, everyone who submits this week will get something special in return: a 100%-off promo code for the film.
Shot in the middle of the Mojave desert, Toro y Moi: Live from Trona presents an entire concert album, recorded live beneath the geological wonders known as the Trona Pinnacles. The way sound bounces and twirls around those natural wonders makes for a very special auditory experience (which Harry and Toro y Moi told us all about in our interview). And it got us thinking hard about sound — specifically natural sound. We thought this would be a great opportunity to open up our collective ears and get in tune with our surroundings.
Natural sounds are a powerful storytelling tool. Strong gales agitating some wind chimes can indicate that a storm is on its way. The squeaking of a door and gentle grinding of rusted hinges can give us 100 years worth of neglect and urban decay in a flash. You get the idea.
People are subjected to a different set of sounds every day depending on where they are. Hear a faint "ko-key! ko-key!" noise as some leaves rustle nearby? You must be in Puerto Rico, home of the coquí frog. How about someone screaming "Get the hell out of the way!" followed by a series of aggressive car honks? You are undeniably in New York.
Aren't those little details just amazing? Paired with the right imagery, the right sounds can really take those vibes to the next level, fam.
So this week. I want you to let a sound or a series of sounds inspire the rest of your film. Be present, and keep your ears on alert. It may help to carry a recording device around with you for a day. (Pro tip! You can always use your phone for this if you don't have a different recording device) Think about the following for your process:
LISTEN! This is the most important and most crucial aspect of this week's challenge.
Record sound with an idea of how it can pair with visuals later.
No dialogue. It's OK if your recordings feature folks talking in the background, but no scripts or interviews here, folks!
The emphasis of this challenge is on capturing meaningful sound and communicating that to your viewer. I recognize that not everyone has advanced recording devices, so don't worry if the quality of sound isn't the absolute best.
Let sounds lead you to images, instead of vice versa. Once you're settled on some super sounds, add in imagery that lends to the sound of the piece!
No additional sounds can be added in post production!
For the first time in Vimeo Weekend Challenge history, EVERYONE who participates gets a prize! Here are all the details:
The Rules:
No more than one minute and thirty seconds in length, please.
Don't add any music! Just use the natural sounds captured by your microphone.
Only videos made specifically for this Challenge will be considered.
Anything goes for the title, but add this at the end of your video's description: "Created for the Weekend Challenge: Vimeo Weekend Challenge"
Upload and post your video to the Weekend Challenge Group by Tuesday, August 9, 2016 at 11:59 PM (EST). Just follow the screenshots below: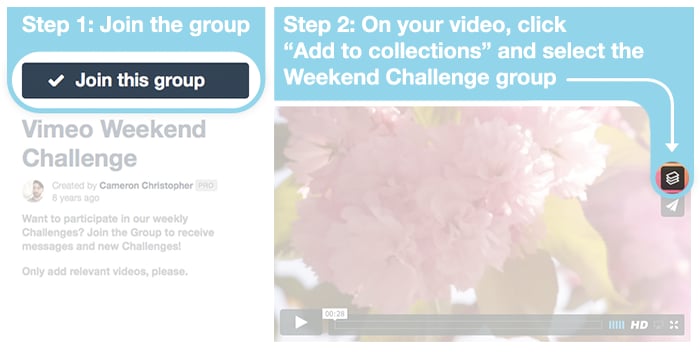 The Prizes:
The winner will receive a signed Toro y Moi album, plus the 100%-off promo code, winner badge, and a free Vimeo Plus membership for one year! If you're already a Plus member, you'll get another year tacked on. If you have Vimeo PRO, we'll give you six more months of PRO added to the end of your current membership.
The runner-up will receive the 100%-off promo code for the VOD, plus a free Vimeo Plus membership for six months. Current Plus members will get six more months added on, and PRO members will earn three additional months of PRO.
All videos must be approved by the Vimeo Staff before appearing in the group, so don't worry if your video doesn't show up at first; we'll get to it!

What an absolutely incredibly batch of entries this week! All of your videos were all very unique, and some of them very personal, and we enjoyed them all. I highly recommend watching all the entries with some headphones on.

The winner this week is The Busker by Abi Inman
<
p>Our runner up is Through The Lens by Tony Round