People are always telling me to get my eyes off of my phone and live in the moment. You know what I say to that? "I'm sorry, can you say that again to the camera? I hadn't hit record yet." OK, maybe I don't go that far, but back in January 2014, I made the conscious decision to start filming a lot more. I have a pretty awful memory and I found that recording moments of my life, both big and small, let me appreciate them more. From the little things I would've totally forgotten about, to the subtle details of the bigger events, they're now all captured on film.
But this also means I have tons of clips on my phone and various cameras that aren't substantial enough to warrant their own video. So every three months, I take all my homeless video clips and string them together into something watchable. I began doing it just for me, but I've found that friends and family enjoyed spotting themselves, and even voyeuristic strangers were tempted to watch as well. And for filmmakers, it's a great opportunity to get creative and use every bit of what you've got.
Here's the last one I made, covering this past August through October.
My friend Cameron does his own version of these called "Memory Bank" (this Challenge's namesake, in fact). Here's his 2015 video:
Do you see where I'm going with this? For this extended Weekend Challenge (you've got 'til the first week of January!), I want you to take a trip down memory lane, gather up all of the video you've shot this year that you haven't used in other projects, and make a wrap-up video of your 2016.

Since this final Weekend Challenge of the year is a bit more substantial, we're giving you some extra time to knock it out and doubling the prizes (win up to two years of Plus!). Happy end of 2016, friends. Can't wait to see your creations.
The Rules:
Three minutes or less in length, please.
If you add music, make sure you use a song you or a buddy created, or that you have the rights to.
Only videos made specifically for this Challenge will be considered.
Only use videos you shot in the year of 2016.
Anything goes for the title, but add this at the end of your video's description: "Created for the Weekend Challenge: Vimeo Weekend Challenge"
Upload and post your video to the Weekend Challenge Group by Tuesday, January 3, 2017 at 11:59 p.m. (EST). Just follow the screenshots below: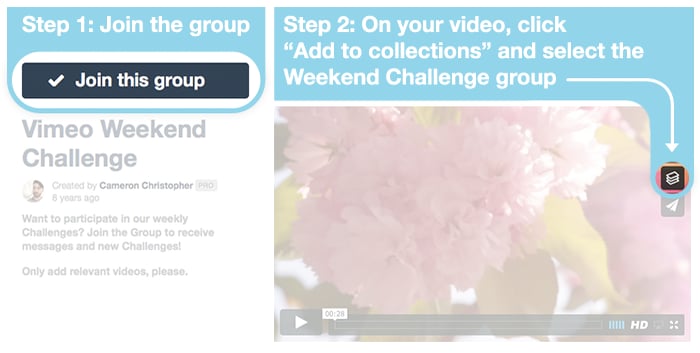 The Prizes:
The winner will receive a badge and a free Vimeo Plus membership for two years! If you're already a Plus member, you'll get another two years tacked on. If you have Vimeo PRO, we'll give you one year of PRO added to the end of your current membership.
The runner-up will receive a free Vimeo Plus membership for one year. Current Plus members will get one more year added on, and PRO members will earn six additional months of PRO.
All videos must be approved by the Vimeo Staff before appearing in the group, so don't worry if your video doesn't show up at first; we'll get to it!

Thank you to everyone who submitted to this Weekend Challenge! We loved the small peek into all of your lives.

The winner is 2016 by Hadrian Nava Embalsado
<
p>Our runner up is Home Video Diaries by AJ Molle