The Bechdel-Wallace test, more commonly known as the Bechdel test, asks three things of a given piece of media being evaluated.
Are there two women present (preferably both are named characters)?
Do the women talk to each other?
Do they ever have a conversation about literally anything other than a man?
It should sound easy because it is easy. Along with being simple to achieve, research shows that films that pass the Bechdel test make more money than films that don't.
I mean, don't get your hopes up. The Bechdel test isn't a feminist cure-all. Your feminist piece of fiction may not pass the test, or your script may pass while not necessarily being feminist. But, if you're writing a script and wonder to yourself, "How do I write a well-rounded female character?" The Bechdel test is great starting point.

Now, it's your turn to test your female forward filmmaking chops. This weekend we want you to make a short film that passes — heck, surpasses — the Bechdel test.
For some inspiration, browse this channel, and check this short out:
The Rules:
Create a video that passes the Bechdel Test
Your video must be two minutes or less in length.
If you add music, make sure you use a song you or a buddy created, or one that you have the rights to.
Only videos made specifically for this Challenge will be considered.
Anything goes for your title, but add this at the end of your video's description: "Created for the Weekend Challenge: Vimeo Weekend Challenge"
Upload and post your video to the Weekend Challenge Group by Tuesday, January 30, 2018 at 11:59 p.m. (EST). Just follow the screenshots below: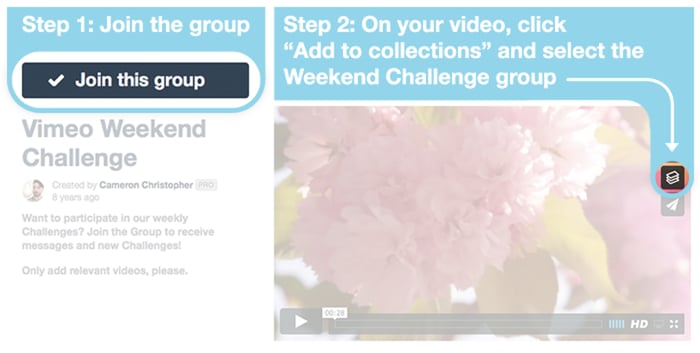 The Prizes:
The winner will receive a free Vimeo Plus membership for one year! If you're already a Plus member, you'll get another year tacked on. If you have Vimeo PRO, we'll give you six more months of PRO added to the end of your current membership.
The runner-up will receive a free Vimeo Plus membership for six months. Current Plus members will get six more months added on, and PRO members will earn three additional months of PRO.
All videos must be approved by the Vimeo Staff before appearing in the group, so don't worry if your video doesn't show up at first; we'll get to it!

Thank you so much to everyone who participated! The winner of this challenge is Deborah Svoboda with Hear Her.
Our runner up is Debbi Mack with The Snarky Muse
<
p>Thanks again to everyone who sent us submissions! See ya next time!