You've picked apples and made the pies. You've peeped so many leaves that the insides of your eyelids are red and yellow. Your entire life is redolent with épice de citrouille (better known as pumpkin spice). What else is there to celebrate about the fall? Why, staying in and watching horror movies, of course. Next time you find yourself on the couch, clicking through genre films, put on a good old-fashioned monster movie for inspiration, because this Weekend Challenge is all about making your own creature feature — DIY special effects and all. Still need inspiration? Check out the video I made.
Whether your entry winds up being about ghosts, werewolves, or your local version of Bigfoot (Skunk Ape, anyone?) I hope you have a spooktacular time making it. We're looking forward to seeing your creations.

The Rules:
Put a monster in it! It can be implied or depicted, but it should be supernatural.
Keep it short and sweet — under three minutes.
If you add music, make sure you use a song you or a buddy created, or one that you have the rights to.
Only videos made specifically for this Challenge will be considered.
Anything goes for your title, but add this at the end of your video's description: "Created for the Weekend Challenge: Vimeo Weekend Challenge"
Upload and post your video to the Weekend Challenge Group by Wednesday, October 25th, 2017 at 11:59 p.m. (EST). Just follow the screenshots below: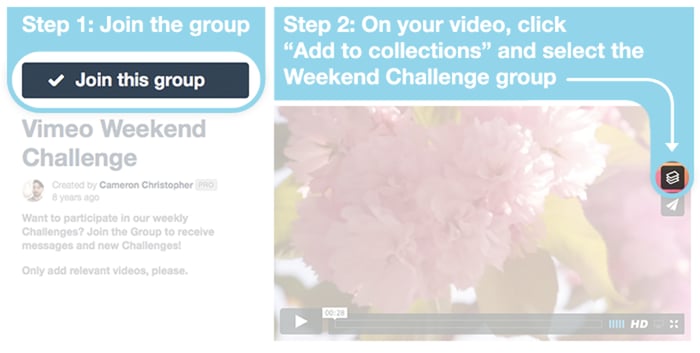 The Prizes:
The winner will receive a free Vimeo Plus membership for one year! If you're already a Plus member, you'll get another year tacked on. If you have Vimeo PRO, we'll give you six more months of PRO added to the end of your current membership.
The runner-up will receive a free Vimeo Plus membership for six months. Current Plus members will get six more months added on, and PRO members will earn three additional months of PRO.
All videos must be approved by the Vimeo Staff before appearing in the group, so don't worry if your video doesn't show up at first; we'll get to it!
There were lots of terrifying entries to choose from, but the winner is Chad Bronder with DOGGONE!

Our runner up is Agatha by Alden Miranda.

<
p>Thanks to everyone who took part. We'll see you all next time!