Hey there, poignant pattern-makers,
<
p>The Challenge this weekend is to begin with one object or idea (your theme), and change it over the course of your video. A theme in music, usually a melody, is occasionally repeated in an altered way, which creates a variation of that theme. Sometimes this means adding other instruments to create harmonies, or changing the rhythm of the original melody.

A great musical example is Ravel's Bolero, which starts with the theme floating from a solitary flute and passes it around with variations by multiple instruments. The melody stays the same, but the orchestration grows in volume and density. Have a listen at 0:12 vs 13:03 (but be prepared, it's quite a volume change!):
Let's take a look at variation in nature: each of these leaves has the same basic properties and function as the others, but they come in many shapes and sizes. Great job, Oak tree! Thanks for helping me illustrate my idea!

Some examples of variations you could try:
- Film a short clip that loops, but alter the subject a little each time — like Pinggui Films did in their winning video FIT .
- Work with the same clip, but gradually change the way you edit it as the video progresses.
- Choose a word, then introduce and illustrate synonyms one by one.
Feeling creative? Ready to go? Take a look at the rules, and get started:
The Rules:

Create a video exploring variations on a theme. Remember that only videos made specifically for this Challenge will be considered. + Keep your video under 2 minutes long.
If you add music, make sure you use a song you or a buddy created, or something from the Vimeo Music Store! If you do choose to use a Music Store song, please throw a link in the description.
Anything goes for your title, but add this at the end of your video's description: "Created for the Weekend Challenge: Vimeo Weekend Challenge"
Uploading and post your video to the Weekend Challenge Group by Tuesday, March 24th, 2015 at 11:59 p.m. (EST). Just follow the screenshots below: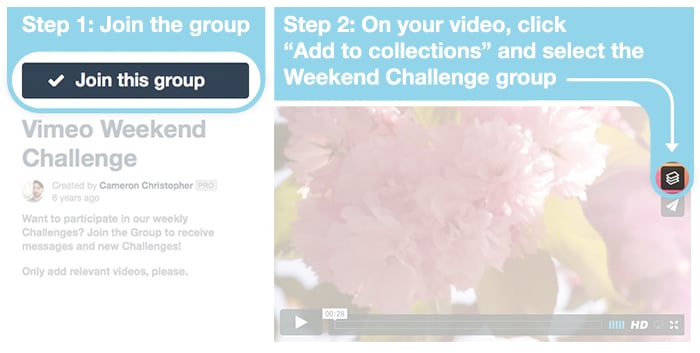 The Prizes:
The winner will receive a Challenge badge on their video, and free Vimeo Plus account for one year! If you're already a Plus member, you'll get another year tacked on to the end of your current subscription.
The runner-up will receive an extra 3GB of upload space in their weekly quota!
All videos must be approved by the Vimeo Staff before appearing in the Group, so don't worry if your video doesn't show up at first; we'll get to it!


Sorry for the delay! Cam went over to Ireland to try and land a role on Game of Thrones...and ran into some White Walkers.
I'm happy to extend a big congratulations to our first place winner, Yasir Ekici for his entry The Message!
And, for our runner-up, congrats to Brian Wiebe for his video
Nameless Veinst!
<
p>See you all next time!
- Haley