To develop a solid digital-marketing strategy, teams, marketers, and video pros alike need to bring videos into the fold. While the term "video marketing" may seem self-explanatory (essentially, adding videos into your marketing campaigns), it is far from obvious how you can go about actually doing it effectively.
Vimeo Business
is here to help with that. Tap the play button to see some of the powerful features built into our newest membership. Then, dive in as we overview the key terms you should know, what a typical marketing funnel looks like, and how you can most effectively market your videos across all your channels.
Why video marketing matters.
With the rise of sites like Vimeo and YouTube, social channels like Facebook and Twitter now incorporating video, and dramatic improvements in streaming quality itself (bye bye, dreaded buffering), videos now appear throughout all the stages of what's known as the marketing funnel. The traditional funnel looks like this: you intro someone to your business (awareness stage), educate them about it (consideration stage), justify your offering (decision stage), and retain customers (delight stage). Today, people expect to see videos at every stage, from learning about your products to engaging with your brand — which is why
marketers find videos so essential to their strategies
. Vimeo has even created a
marketing video maker
tool to streamline the process for you.
So how do you do video marketing right?
Let's breathe some life into a typical video-marketing funnel through a real-world (but actually made-up) example. WebThyme is an (imaginary) software company that helps people build and host websites, and Jenn is a prospective customer.
The right prospect: Jenn is about to launch a health and wellness website. WebThyme's target audience is small business owners.
The right channel: Jenn Googles advice on starting a business, and comes across one of WebThyme's videos in a blog post, one that profiles an entrepreneur's story. Excited, she subscribes to WebThyme's emails, and they send Jenn a weekly newsletter with helpful info.
The right action: Jenn clicks on a newsletter link that takes her to a landing page, which features a video delving into WebThyme's latest features for small business owners. She taps button linking to a free trial — the call to action — and decides to give it a go.
This is just one example of a possible video-marketing scenario. But how does that play out on a more granular, actionable level? What are the best video-marketing practices for key channels like social media, email, and your company website? Let's dig in…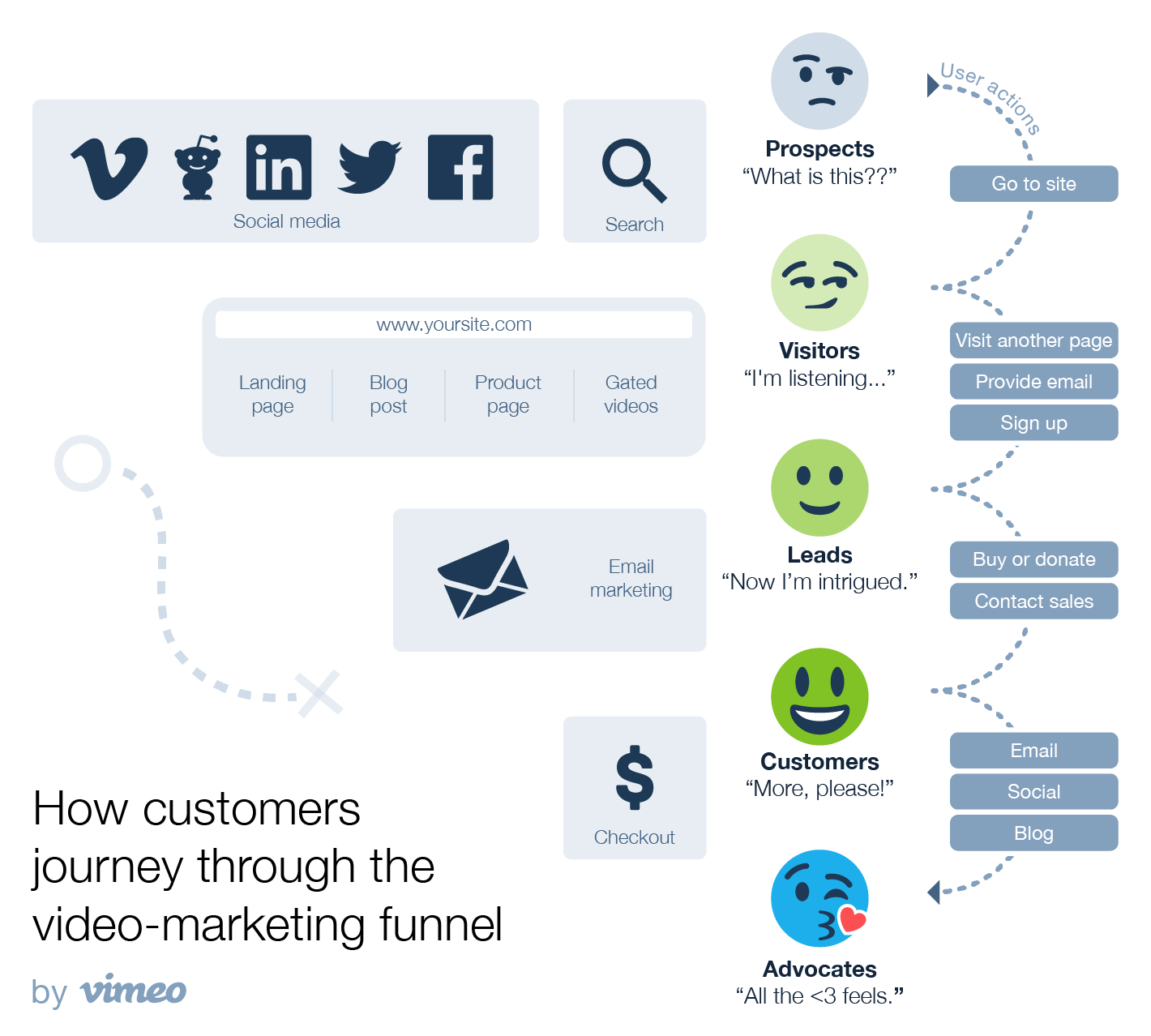 Exploring social media
Marketers around the world invest in social because
it helps drive engagement. 
And Vimeo is no exception: our marketing team has found that videos increase our click-through rate (CTR) by an average of 40% when used on Facebook and LinkedIn — and
we use videos constantly
. (Vimeo using videos? I guess that makes sense.) When your business establishes a presence on social media, you can attract followers who like what you're putting out there, and over time they may become customers. That's in part because social often drives to your site, where you have more control of the user experience and can provide more info about what you do. Why is social so effective for growth? When your existing followers like, comment, or share your posts, they essentially expose your videos to their own friends and connections, some of whom may start following your page too. One way to generate more leads in this ecosystem is to add email capture forms, available with Vimeo Business, so you can collect viewers" contact info directly within the embedded player. Then, you can seamlessly import those email addresses into email marketing services like MailChimp, Campaign Monitor, and Constant Contact. But maybe you want to drive your viewers to a landing page to learn more. You can do that too! Vimeo Business lets you add clickable CTAs, so you can direct people exactly where you want.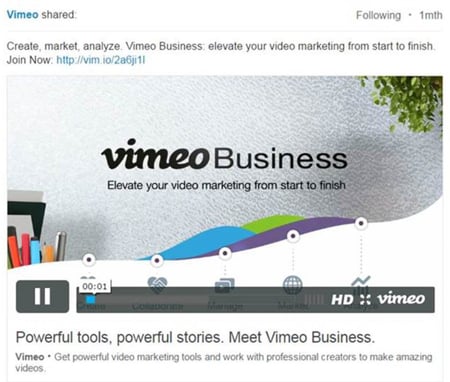 See? We do it too.
You can also increase your reach and gain new followers at larger scale through paid social media. Depending on the specific site, you can target key audiences, and promote your video through pre-roll placement or promoted posts. But for both organic and paid, your social
videos should be entertaining, educational, and usually on the shorter side
 (When was the last time you watched and shared a 10-minute Facebook video?). And as a best practice, you should take into account the specific format requirements for each social media site, like video-length requirements and whether or not it autoplays without sound.
Let your email campaigns flourish
When it comes to emails, videos matter big time: they can
increase click-through rates by 200-300%
 (that's so many percents, people), and reduce the number of un-subscribers. Unfortunately, many email clients still cannot handle videos embedded directly into emails — but it's easy to get around it by overlaying a play button on a still image from your video, and driving to a landing page that features the full thing. This is fairly easy to do with those email marketing systems we mentioned up there, as well as in marketing automation systems like
HubSpot
. And #protip: this is also an excellent way to A/B test which video thumbnail gets you the best click rates. And as a general rule of thumb, you can improve your campaigns" conversion rates by tailoring your design and copy to match the landing pages they drive to.
This Campaign Monitor email is one such example of a play button overlaid on a video still.
Your website, packed with amazing videos
Embedding videos throughout your site not only increases engagement and conversion rate, but also helps to improve the SEO value of the pages they're embedded on. For example, every Vimeo video that appears on your site comes is with the correct markup to help Google properly index your videos. And that means
your pages appear higher in search results
and can drive more visitors to your site. There are four main areas on your site where videos are typically embedded:
Homepage
Most companies create an overview video for their homepage, one that shows what your brand's about, why what you do matters, and what problem you're solving for. This vastly impacts on how you are perceived in the eyes of someone just coming across your brand. Take 
Canary, for example
.
Landing pages
While your homepage serves many purposes for a wide range of people, your landing pages are great for educating specific segments of your audience about the wonderful things you offer, and enticing them to take your desired action. Marketers drive to landing pages from online ads, social media, blogs, and search engines — and
videos help convert this traffic into leads and customers
. For instance, take a look at our
Vimeo Business page
.
Blog
This is an important source of inbound traffic to your site — especially when your posts include helpful info, industry news, and thought leadership on the topics that your audience cares about, since they're likely searching for those subjects on Google. It is also a great destination for sharing product and company news, events, and best practices with your community. Need an example? The very thing you're reading is (hopefully) more engaging with videos sprinkled throughout.
Product and FAQ pages
Product pages are another place where videos drive conversions. These are meant to help people learn about your features while they're considering using your products or services. Video is often the easiest way to convey complex information like nitty-gritty product details: 
take a look at this example
of a product page amplified by video. FAQ and support pages function similarly to product ones, helping newcomers and your existing community navigate what all that you do. If you've never made one of these before, that's OK! We've assembled 
some of our favorite examples
to help.
Putting it all together
When your video-marketing strategy is implemented well, you create an incredible ecosystem that grows your business: your social videos are attracting new followers and engaging existing ones; your video-filled blog posts are ranking high on search results; your email campaigns — with gorgeous video thumbnails — lead fans to to your landing pages, and those boast relevant videos with clear CTAs, all of which are optimized for generating leads and driving conversions. And all of that is measurable, trackable, and optimizable over time. Speaking of…
Next up:
discover how to make the most of video analytics
. (Because, alas, all the things above possess little value if you can't track their performance and measure the results.)