Hi Vimeo,
It's time once again for a Vimeo Offline event here in New York City. Come join us, your friendly Vimeo Staff, as we screen some of the best and brightest video gems found aboard the virtual cruise-ship of creativity that is the Vimeo.
Our theme this month is "Art of Motion." We've curated a collection of videos that showcase that amazing kinetic wonder of biomechanics, the human body. Join us as we share videos with insane extreme sports action, sublime dance performances, otherworldly underwater diving, and unbelievable acrobatics. If it involves feats of strength, grace, agility, or sweetness in general it will be screened. Come meet us if you're in the New York area next week, I promise that we Staff members are even more fun in real life. Hope to see you there!
Details-
When: Tuesday, February 22nd. The event starts at 8:30 p.m. It's free, but you must RSVP! Hey that rhymes!
Where: SPiN New York is located at 48 East 23rd Street btw. Park & Madison (map)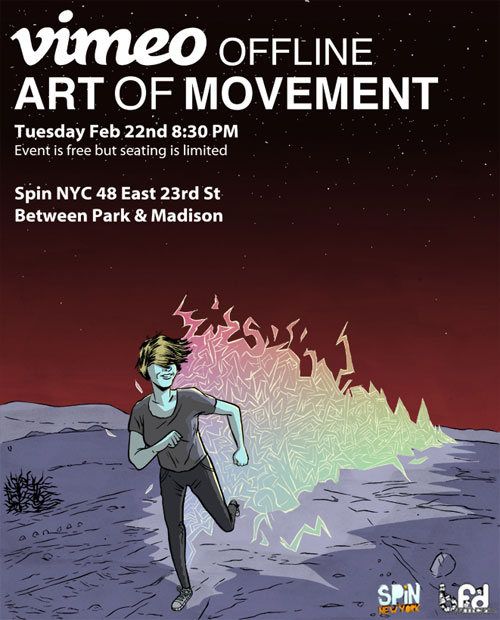 poster art by Ian!
Update-
Here's an album with all the videos we screened!
+ More from the Staff Blog Archive