Staff Blog
/ Submit to the Disposable Film Festival!
Dear Vimeans,
We love filmmaking at all levels, so whether you have the latest dark magic 4-d IMAX-compatible camera or just your rickety old mobile phone, it's all audiovisual storytelling swellness to us. That's why we're happy to announce that the Disposable Film Festival is right this very instant accepting submissions!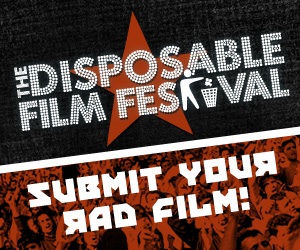 The Disposable Film Festival, or DFF as we like to call it, celebrates movies made with everyday devices. We've all seen the world of creativity changed by technology landing in the hands of the enthusiastic smart-phoned every person, and having attended the DFF a number of times, I can attest to its awesomeness. It's a singular blend of boisterous screenings, educational workshops, and cerebellum-poking panel discussions.
Imagine having your creative vision shown before a live audience, chatting with fellow videomakers, and winning all sorts of cool prizes. To be honest I can't think of a good reason to not submit, so get to it!
If the quality of talent in previous festivals is any indication (check out last year's grand prize winner "Malaria" and honorable mention "The Man Who Lived on his Bike"), this year will be chock full of creative visions that transcend — or are enhanced by — their technological limitations. Watching is just one part of the festival, though, as conversations with filmmakers are a major attraction as well. Here's a sample of my discussion with Bianca Giaever, whose video "Scared is Scared" is a must-watch:
+ More from the Staff Blog Archive