Staff Blog
/ The Organizer: efficiently edit your video settings
Sometimes, you have to take a moment to clean house. On Vimeo, that can mean changing the settings for a bunch of videos, or removing old videos to free up storage space. Whether you have a handful of videos uploaded, or hundreds (or even thousands, you busy little bee), making these changes can take time. To make your life easier, we've built a handy tool to help you manage your video settings in bulk. Meet the Organizer.
The Organizer enables you to change the privacy settings for multiple videos at once, and manage their presence in collections, a.k.a. Albums, Channels, and Groups. And thanks to the Organizer, you can now… drumroll… more drumroll... delete multiple videos in one swift action. Bye videos!
To start organizing, log in to Vimeo and go to vimeo.com/organizer. Once there, select the videos you want to do stuff to, then change their privacy settings, add them to or remove them from collections, or delete them. And yes, Vimeo Plus and PRO members can access their additional privacy options.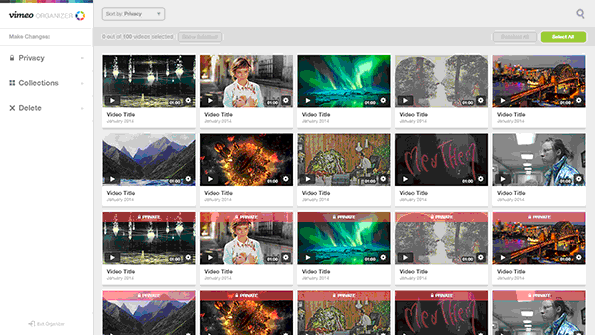 We'll be adding more "fun"ctionality to the Organizer in the coming months, so prepare for future organizational bliss. In the meantime, try batch-editing (or deleting, if that's your thing) some videos and send feedback our way!
+ More from the Staff Blog Archive