The MacNuggit Music Video Hive
Plus
Joined

Location

Bay Area, CA
Profile Images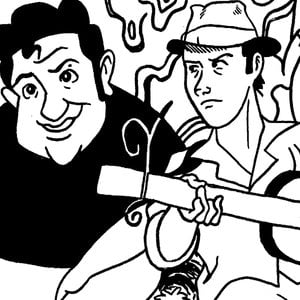 User Bio
Bobby Joe Ebola and The Children MacNuggits was mightily formed in 1995 in a fast-food parking lot by guitarist Dan Abbott and singer Corbett Redford. The often funny and sometimes scary band built a dangerously loyal following of punks, misfits, elected representatives, perverts and intellectuals, before going on hiatus for the entire tenure of the Bush Administration. In 2009, the band rebuilt its war machine and is once again shocking contemporaries with toe-tapping uncomfortable truths.
The MacNuggits have become legend in the musical underground of the Bay Area and beyond, with their infamously unpredictable mix of searing social satire, soaring harmonies, outlandish and shocking truths, and poop jokes. The songs draw upon a variety of pop culture, of global crises, of interpersonal labyrinths, of nightmares and daydreams, skewering them on a rusty spit for the world to see. With a nod to social satirists like Lenny Bruce and George Carlin, and musical influences ranging from They Might Be Giants to DeBarge, Bobby Joe Ebola is the vaudeville routine for your personal apocalypse.
Dan and Corbett write the songs. Dan plays guitar. Then very strange things start to happen. The apocalypse, just like revolution, is not an event but a process, and it's hilarious.