Profile Images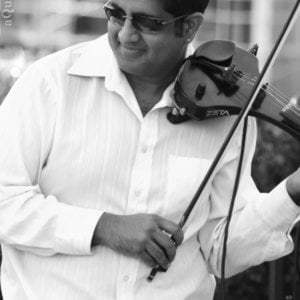 User Bio
I was 4 years old, and my family was being exiled from our country, our home. We were fleeing a land ripped apart by turmoil, and political and social revolution."
For Bahman Sarram, AKA Bviolin, the uneasy years of his childhood in Iran were marked by chapters of triumph and tribulation. Those memories continue to have a profound effect on him to this day.
"I remember the music of my home land, dancing while my mom sang at parties. I remember always being moved by sound and wanting to be part of it in some way," Bahman says. "I know those days will always be a part of me, every time I play. It's inescapable".
A classically trained violinist, Bahman displays a remarkable mastery of the instrument in every note of his passionate performances. No matter what style he's playing—jazz, funk, fusion, folk or rock—his improvisational skills, raw energy and natural instinct for melody have made him an integral part of many different bands.
But after years of composing music for other artists and touring internationally in other band, Bahman realized the time was right to tell his own story through his music.
The result is a new project, known as Bviolin and the January Avalanche, and solo debut entitled How This Weighs On Me. The eclectic, new record presents songs and compositions that reflect the diverse influences on his life and music.
"I wanted to create a signature sound—a unique mix of World & Fusion instrumental compositions with hints of gypsy, Middle Eastern flavors—along with lyrical songs influenced by traditional folk," Bahman explains. "So, in addition to playing 4 different instruments myself, I gathered together an amazing group of players."
January Avalanche features Chris Hale on 5-string fretless bass, Michel Rodriguez (AKA Mrod), an eclectic drummer with instinctual syncopated drive, and Reverend Stickman, one of southern California's finest blues and folk guitarists. In addition to performing with his San Diego bandmates, Bahman also plays as an acoustic duo with Rado, a gifted soul/funk/jazz guitarist and singer/songwriter born in Madagascar and based in San Francisco.
I knew this would be the right cast of characters to help tell my story, and put their sonic and spiritual "stamp" on the music," says Bahman.
Much of the album was inspired by Bahman's experience escaping Iran during its national upheaval. One such track is the instrumental "Gypsy Nights."
"It's about a family leaving everything they know and love in their beloved home country, and in the blink of an eye, having to escape the Revolutionary hands that took over the once free and beautiful Iran," Bahman explains. "In a dream one summer's night, the memory of that time returned and Gypsy Nights was written."
The album also features a strong undercurrent of traditional Americana influences that can be heard on tracks such as "Wonder" and "Sun." It's a diverse collection of sounds that's held together seamlessly by Bahman's virtuosic violin playing and vivid storytelling.
Throughout the fall of 2008, Bahman will be touring as Bviolin and The January Avalanche, with performances scheduled throughout the San Francisco Bay Area in early October 2008. For schedule updates, news and shows, be sure to check the calendar at Bviolin.com.
Track List for How It Weighs On Me:
1. Wonder
2. Sun
3. CJB
4. King's Wish
5. Gypsy Nights
6. Revel's Last Call
7. ChalkBoard
8. Grace
9. Namyo
For more information, visit:
Related RSS Feeds