Caliroots
Plus
Joined

Location

Stockholm Sweden
Profile Images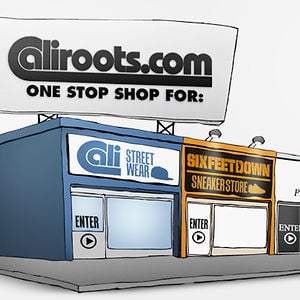 User Bio
Caliroots.com
Your online store world wide!
4 Stores in Stockholm. Sweden:
Cali Store, Brunnsgatan 9
The Cali store located on Brunnsgatan 9 opened up it's doors around christmas 2003, focusing on brands with a Californian vibe, such as Stussy and Vans. Cali can be described as a grown up skate-limited concept, with most of it's brands imported directly from USA and Japan. Large parts of the selection is unique, and even when we place orders from established and bigger brands such as Nike, Levi's, Adidas and Vans, we only select the cleaner, alternatively more unique models.
Six Feet Down, Regeringsgatan 77
SixFeetDown at Brunnsgatan 9 was formed in the autumn of 2006. This is a unique sneakerstore in the inner city with a handpicked assortment. Here you'll find the clean basics and the flipped and limited releases from both the big and small brands such as Nike Sportswear, adidas Originals, New Balance, Jordan, Puma och Reebok.
Cali Skate Dept, Brunnsgatan 9
Cali Skate Store is located under the Caliroots Store at Brunnsgatan. We got a huge selection of NikeSB and Vans plus a selected mix of skate performance and special editions from Etnies, Es, Emerica, Supra. Add a full selection of all the hardware you need an you got your new one stop skate shop downtown Stockholm!!
C Concept Store, Regeringsgatan 75
The latest addition to the family of Caliroots is a new concept by the name "C". It is composed of a cleaner, more casual and premium style of classic contemporary clothing. The store opened on the 17th of June 2009.
Located at Regeringsgatan 75-77 in Stockholm, it is within a convenient walking distance of our other retail spaces.
C stands for Classic, Clean & Casual. And you can find brands like: Mark McNairy, Arcteryx Vailence, Common Projects, Norse Projects, LVC, Rocky Mountain Featherbed, Momotaro, Our Legacy, Wood Wood, Heritage Research, Grenson and Perks and Mini.