Carolyn Dawn Johnson
Joined

Location

Nashville
Profile Images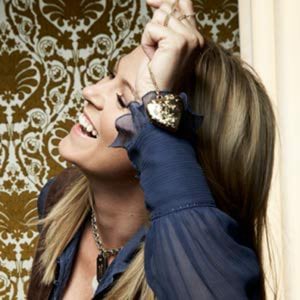 User Bio
"All in all," says Carolyn Dawn Johnson, "I'd like to think that in my life, Love Rules."
That sentiment, like the album's title track itself – a beautifully rendered arrangement featuring Johnson's vocals set against nothing more than a single acoustic guitar – says a great deal in very few words about the approach Johnson takes to both her personal life and her diverse musical career. It's also an example of the elegant simplicity that typifies the songs the Alberta born, Nashville based recording artist has chosen for her latest release on DANCING LILY/ROADANGEL/Universal Records, Love Rules – her first since 2006's Love & Negotiation.
For someone who once asked her mother how people could live without music an absence of four years might seem strange. But while Johnson may have taken some time out of the spotlight to have a family, she certainly hasn't been living without music.
Before the arrival of her first child Johnson moved to ensure she
had a dedicated home studio to work in. A space she has spent a great deal of time in ever since; working not only on Love Rules, but recording, producing and writing with a variety of other artists.
She's also been actively expanding the avenues open to her beyond that; as host of her own syndicated radio show for a year (Sounds Canadian), as a voiceover talent, as an ambassador for the Children's Miracle Network and as the host of events like the BCCMA's and The SOCAN Awards (2009).
Produced by Johnson and fellow Nashville songwriter/producer Frank Rogers, Love Rules represents not only Johnson's return to the airwaves and the stage, but a change in her personal perspective that has sharpened her talents as a singer, songwriter and producer. "Music is still a huge part of my life, but my life
has changed. I now have two children and it's not all about me anymore."
Nor are most of the tracks on Love Rules. "It's not about my life so much, it's more about other people's lives this time. I've always wanted to be an artist who writes things that are real to me," Johnson says. "All the stuff on the record – it might not be me right now – but I've either seen it, or been in it, or watched it
somewhere in my life."
"That title track itself is probably twelve years old," Johnson adds, "but I've always loved it, always wanted to put it on one of my albums and always thought it should be the title of a record." And although it may sound like a song about her relationship with her husband, it was written long before they met. "As a songwriter you're always thinking; have I got another song in me? So, if for some reason a melody and a few words pop out on a particular day you just have to follow that direction."
While 'Love Rules' stand out from the rest of the album because of its spare arrangement, the raw sentiment behind it is reflected in the balance of the record – a fearless and forthright recognition that happiness is all too often balanced by heartbreak; by wishes unfulfilled, opportunities missed and personal losses deeply felt and feared.
On songs like 'The Whole Thing', Johnson slips into the skin of someone questioning whether the love she's found is good enough to last, or something that needs to be let go. "I have absolutely have been in that spot," she says. In 'Bitterness', she revisits a time when she felt like she was done with the music
business. "But that's not me. That's not how I think as a person. I wanted to get rid of that bitterness." On other cuts she is clearly an observer; on 'I Just Want My Life Back', for example; a song about a friend who finds everything she believes in torn away from her after finding her husband cheating with her neighbour and close friend.
But implicit in the title, Love Rules, there's hope and faith as well, balancing out the doubt and darkness in some of the subject matter Johnson was so drawn to while making the cord. "Musically and lyrically, I tend to be more attracted to the bittersweet, but the other part of me still love's to be hopeful and positive."
It's there in the possibilities for "opening up the door to heaven" and lasting love Johnson describes in 'What If'. And in 'Teach Me', a prayerful appeal for the strength and knowledge to learn to love better, and to find the strength to give thanks for that knowledge even if it comes with a measure of pain – a track that also showcases Johnson's production chops with an arrangement that's powerfully dynamic musically, and yet still intensely devotional.
These are all songs Johnson truly loves, delivered with a level of conviction and authenticity that's as much a testament to her range as a singer and songwriter as it is to her deepening perspective on life and love.
Making Love Rules wasn't a result of feeling any specific pressure to release a record, she says. "I come around when I have a handful of songs that I really want to be heard and then I build the rest of the record around that."
On Love Rules Johnson's arrangements and lyrics are as compelling and truthfully spoken as ever. Regardless of the subject matter, on every track Johnson manages to communicate the power of love with both a sense of wonder and a keen sense of self. Nowhere more so on the record's first single, 'Let Me
Introduce Myself'. A track that, unlike the rest of the songs, was initially intended for another artist's record. Ironically, the sentiment it expresses offered Johnson a perfect way to reintroduce herself to listeners after so long away.
"There's nothing better than someone saying they like something you're passionate about," Johnson says.
On the other hand, there's always the chance, especially after being out of the public eye for a time, they won't. "That's the insecurity that comes with being a recording artist."
There are many phrases that come to mind as a way of describing Carolyn Dawn Johnson, but insecure certainly isn't one of them. Over the course of her career Johnson has shared the stage with Country greats old and new, from the likes of Reba McEntire, Kenny Chesney and Keith Urban, to Kenny Rogers and
Merle Haggard. She's garnered critical acclaim and commercial success with powerhouse hits ranging from her first No. 1 as a songwriter (1999's 'Single White Female' by Chely Wright); to tracks from her own records including 'Complicated' and 'I Don't Want You To Go'. Along the way she's won ACMA, JUNO and American Music Awards, and has been honoured as a songwriter, recording artist and producer with multiple ASCAP, SOCAN and Canadian Country Music Awards (an astounding 16).
Still, for all the awards, and for all the breadth of her experience, it wasn't the easiest thing in the world to put herself out there again with the release of her own record. "I didn't know what was going to happen. I was nervous about getting back out there, and you do ask yourself, is anybody even going to care?"
The answer is a resounding yes. When 'Let Me Introduce Myself' hit Canadian airwaves it became number 1 most added track at Canadian Country Radio two weeks running following its June 2010 release. "It felt like they'd welcomed me back with open arms," Johnson says. And although the record may stray into
areas that reflect some of her personal uncertainties, Love Rules, like Johnson herself, ultimately tends towards the positive. Leaving the lasting impression that no matter what insecurities haunt you, or what past choices may have left you with lingering doubts, for every corner you turn to find heartache waiting
there's another just down the road around which you'll find happiness.
Related RSS Feeds