CHRISTIAN RICH
Joined

Location

Los Angeles, CA
Profile Images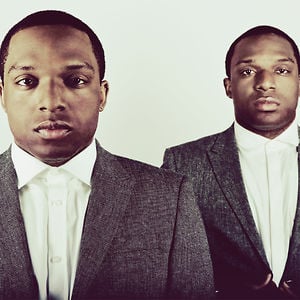 User Bio
Chicago-bred, electro-beat-making, clever-rhyming, falsetto-singing Christian Rich are one of the most exciting and innovative duos in music today. The twin brothers have, up to now, been a quiet force in platinum-charting hip-hop, helping to make hit records for Lil' Kim ("Get in Touch With Us" and "Queen Bitch 101"), Clipse ("I'm Serious"), Armand Van Helden ("Ski Hard"),Young Gunz ("Problems"), Foxy Brown ("Jumping") and Timbaland artist Izza Kizza ("Hello") to name a slew. They landed their first overseas smash with electro giant Armand Van Helden with the banger "Ski Hard". The video is currently on MTV UK, VH1, NME and many other media outlets. With such a growing resume, it's no surprise the pair have completed their own album; as their ranks on the production side increases, the artist side seems to be catching up quickly.
In order to build anticipation for their new EP titled "The Decadence" , Christian Rich have given their audiences a taste of what to expect. Between blogs and fan sites, they have managed to make their new singles "Famous Girl" and "Stacks" catchy sing a longs, while teasing us with future sounds like "Fresh 'n' Fly" and "The Schemer" -- the latter track appearing on trendsetting clothing label G-Star Raw's European compilation due out this year. The highly exclusive European brand Maharishi grabbed up their summer smash "Monday Tuesday Girl" for its newest mixtape while Los Angeles-based clothing company DimePiece Designs used it for their 2008 summer campaign. The boys have also completed a mixtape which serves as a prelude to "The Decadence" album called "I Found My Favorite Beats And Rhymed To Them While Watching 'Coming To America': The Decay Mixtape". The tape serves as a way for fans to have new music and prepare for the duos refreshing sounds. The mixtape is in collaboration with New York based brand Lemar and Dauley.
Christian Rich are also in the studio finishing up work with Kid Sister, Mista Fab, Mickey Factz, Team Facelift and others. Christian Rich are definitely making a new sound that is changing the way producers and artists alike approach music, discovering a way to blend Electronica, Hip Hop, R&B and Pop into every record. With their background as producers as well as their crowd pleasing performances and addictive songs, Christian Rich is set to make their own lane on the super-highway through contemporary music. Keep an eye out for these Chicago go-getters!
Related RSS Feeds