Christos Andreou
Joined

Location

London, UK
Profile Images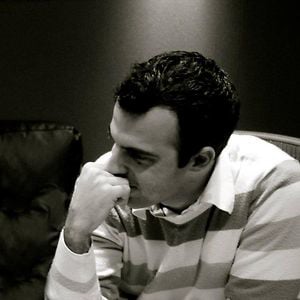 User Bio
Christos Andreou has been composing music for films, television, games and theatre since 2006. After he graduated with a Masters Degree in Music, he began to pursue his career in composing for the Media by working on an array of projects both in the UK, US and abroad. His passion for the creation of music for the media, as well as his Mediterranean background amalgamate into extremely creative music with influences from both the Mediterranean and the Middle East.
SHORT FILMS
Christos has composed the music for various short films including Nightchase, Tales from the Brothers Douvergier, Pandora Revisits, The Surface, Two Too Many, Catch a Falling Star, Always say 'Aishiteru' and Meat me in Plainville which was awarded 'Best Horror Film Award' at the 12th Annual Coney Island Film Festival 2012.
In 2011 Christos composed the music for Eleven Fifty [11:50], a short film written and directed by Stylianos Constantinou which was awarded the 2nd prize at the Cyprus Short Film Festival and screened at the Raindance Film Festival 2013 in London. In the same year he was also given the opportunity to work on a larger scale epic film entitled Daughters of Rome (StormLight Productions) which was selected for the Cork Film Festival 2012.
In March 2013 has scored the original music for 'Barzakh' nominated 'Best Original Score' at the Corona FastNet Short Film Festival 2013 and winner of the 1st Prize for the 'Local' category in the Underground Short Film Festival 2013. The film was written from the award winning screen writer Lindsay Sedgewick and directed by Donogh MacCarthy-Morrogh. Barzakh tells the story of Rabah who was forced to flee his home in Afghanistan and must rebuild his life under the Irish asylum system.
Christos's first collaboration with UniTrust Media Productions is marked with composing the music for the short film 'Aishe is going on vacation', a film written and directed by Haris Therapis.
TV COMMERCIALS
In 2012, Christos was chosen by HAUS International LLC to join their team of in-house composers, in order to work, as a Music Supervisor for BRAUN (Germany) - Multiquick Juicer Ad Campaign, a collaboration between HAUS International LLC and BBDO Proximity. The campaign was presented at the Cannes Festival 2012.
Christos's work for TV include the music forBarclays and Charles Schwab commercials which were featured on many programmes on US TV channels including CNN, MSNBC, CNBC, Fox News, ABC, CBS, Bloomberg News Network, YES Network, Gold Channel and many more. He has also composed the music for Iglo's (Bird's Eye) which was aired on many channels in Europe as well as the Christmas Wonderland 2013 (Dublin) commercials.
TV PRODUCTIONS
In 2012 Christos had the opportunity to score the music for a short documentary for HUGE to illustrate the process of creating the iOS format for HBO GO. HBO GO, is a website which features 600 hours of content available for streaming in standard or high definition.
He has also composed the original music for the Cyprus Broadcasting Corporation - Channel 1 TV Drama Series 'Μοιραία Φεγγάρια' (Fatal Moons) [2012] directed by Klitos Klitou and Evi Papamichael. The story of great love that joined Alexandros and Christina, but 'Fate' seemed merciful to them. The 1974 war separated them and their love endured through time and distance. However, cruel 'Fate' decided to give them a second chance after 38 years. The series is inspired by the book of Maro Kranidiotis 'When Fate Decides'.
PRODUCTION / TRAILER MUSIC
In 2012 Christos worked on a project entitled 'Arabesque Soundtracks - Cinematic Music for Film and TV', which involved a collaboration between multi-instrumentalist Dominik Johnson, award-winning sound engineer Jake Jackson (Gladiator, Lord of the Rings, Doctor Who) and himself. These tracks were published by Altitude Music on the album 'World Travel'.
In June 2013 Christos had the opportunity to also work on a collaborative project with Tolga Kashif, James Collins, Simon Hanhart and Robin Scott. The project entitled 'Epic Trailers' and published by EMI Production Music includes electrifying, emotive, blockbusting, story-driven tracks tailor-made for trailers.
Related RSS Feeds
Recent Activity
Christos Andreou

tagged

Christmas Wonderland TV & Cinema Ad 2013

with

Christmas

,

Commercial

,

Merry Christmas

,

Spot

,

Christmas Wonderland

,

Ireland

,

Cinema

,

Television

,

StormLight Productions

,

Donogh MacCarthy-Morrogh

,

RDS

,

Christmas Music

,

Festive

,

Holiday

,

Christmas 2013

,

A Winter's Tail

and

GloHealth