The Cingulate System
Joined

Location

Portland, OR
Profile Images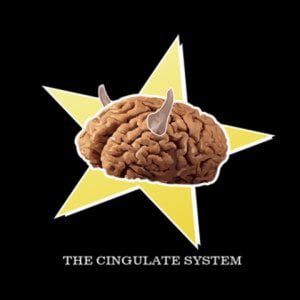 User Bio
THE CINGULATE SYSTEM is a Portland, Oregon, filmmaking team named after the part of the brain that stimulates creative thinking by allowing the mind to flow easily from thought to thought. Our creative team includes writers, videographers, cinematographers, editors, actors, web designers, puppeteers, set builders and more.
myspace.com/smokinbunny
youtube.com/TheCingulateSystem
FREDDY HEATH
Freddy Heath is a Portland, Oregon based video artist and photographer. He was born in New York City, during the time when disco was queen and Kool-Aid was king. After growing up on the East Coast it was time to head west, to the Midwest in fact, where Freddy secured for himself a B.A. in Religious Studies from Macalester College in St. Paul, MN. Seven years of living in Minnesota and traveling to every state in the union left him tired, so he settled in Portland, OR, where he remains today. From his new home base Freddy has explored over fifteen countries on four continents.
Freddy is the Executive Producer of all Cingulate System films and is also a writer, editor, musician, director of photography, actor, puppeteer, puppet maker, set builder, sound recorder, sound designer, lighting technician, title designer, stop-motion animator, and creator of special effects.
JOHN HART
A native of the Chicago suburbs, John Hart received a B.A. in the Humanities from Shimer College in 2004, whereupon he moved to southern Oregon in search of food. After a year and a half reporting for the Rogue River Press, he followed his creative urges northward. Currently he's a puppeteer and principal prop- and set-maker for "Mr. Cigarette Pack Man & Friends," in addition to collaborating in various capacities on films for The Cingulate System. A zealous reader of literature, he really needs to get back to work on his latest screenplay.
John's roles include prop and set construction, actor, writer, puppeteer, special effects and makeups, sound recording and design, music, lighting, graphic design, title design, and stop-motion animation.
NATHAN LUPPINO
Nathan was born and raised in Bremerton, WA. As a child he was fond of writing stories and watching movies. Then, sometime in high school after watching "Buffalo 66", he realized that there were films with plots and complex character emotions----not just ones where things blow up. So his focus changed from writing prose to writing and directing screenplays. He picked up every odd job he could as a production assistant for films in Seattle, eventually interning at the Seattle International Film Festival just before graduating from high school in 2000. That summer he landed a job scraping rust from the vast dark voids of the U.S.S. Independence for ten hours a day, seven days a week. This garnered him enough money to move to Portland, OR, to attend the Northwest Film Center. Since then he has joined forces with friends Freddy and John to create a plethora of projects, including "Chris Wiffle Rides the Mayflower Into the Intergalactic Sunset", which won the award for Best Special Effects in the National Film Challenge of 2005.
Nathan is a writer, director, cinematographer, voice actor and general man about town.
WITH...
Amy Atkins (actress)
Tim Baldwin (music)
Doug Carruthers (actor / writer / props)
Jesse Zander Corum (music)
Tiffany Dawson (actress / set design)
Erin Doble (actress)
Walter Fenk (still photography / actor)
Nick Gradt (actor / props)
Dana Gravelle (graphic designer / actor / sound)
Jennifer Hanks (actress / sound)
Kate Kiecker (actress / music / makeup / writer)
Daniel Kluth (actor)
Devan Phenix (music / actor)
The Pope (graphic designer / actor / lighting / effects)
Stephanie Stach (production / sound / lighting)