Profile Images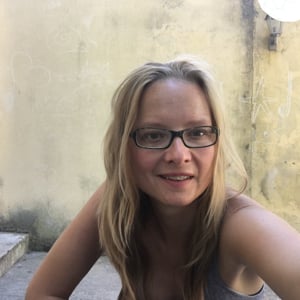 User Bio
Clarissa Thieme is a filmmaker and media artist. Thieme's work regularly brings into focus various non-fictional as well as fictional forms of commemoration. With her newest project HOW TO SHOW WAR? OR: WHO AM I LOOKING AT? she just got a research fellowship at the Graduiertenschule of the University of the Arts, Berlin. Thieme is part of the artist collective "gruppe / hrtz" and in 2016 co-founded "pov – institute for representation and performance" together with Yvon Chabrowski.
Beside of her own artistic work she functions as an advisor to the Berlinale Shorts and connecting cottbus as well as a lecturer.
Thiemes works include HOTEL JADRAN (2017 / in preproduction), HOW TO SHOW WAR? OR: WHO AM I LOOKING AT? (ongoing), DIE DDR HAT ES NIE GEGEBEN / APPELL (2016 / in post production), ICH KENN / I KNOW / EU CONHEÇO (2015), RESORT (2013), THE PLACE WE LEFT (2012) and WAS BLEIBT (2010).
WORK (Selection)
HOW TO SHOW WAR? OR: WHO AM I LOOKING AT? (ongoing)
Video Installation / Artistic Research
in collaboration with Library Hamdija Kresevljakovic - Video Arhiv; part of "Izmedu Nas / Between us"
Research Fellowship at the Graduiertenschule of the UdK Berlin (2016-2018)
HOTEL JADRAN (in development)
Color, 4K, 90Min, 2017 Feature + Video Installation
Produced by pong film, Carolina Kirberg
Script: Clarissa Thieme, DoP: Christine A. Maier
IZMEDU NAS / BETWEEN US (ongoing)
An open archive project / Sarajevo, Vienna, Berlin
in collaboration with Nihad Kresevljakovic, Library Hamdija Kresevljakovic - Video Arhiv & Jasmina Gavrankpetanovic, Sarajevo ALU
DIE DDR HAT ES NIE GEGEBEN / APPELL (in post production)
Color, 4K, 4Min, 2016 / Video Loop
Produced by C. Thieme/ Werkstatt & RAUM FÜR ZWECKFREIHEIT
DoP: Christine A. Maier, Performer: Tanja Krone
ICH KENN / I KNOW / EU CONHEÇO
Color, 4K, 12Min, 2015 / One-Channel-Video
Produced by C. Thieme/ Werkstatt & Christine A. Maier & Kathrin Resetarits
DoP: Christine A. Maier , Performer: Elsa Aleluia
RESORT
Color, 4K, 15Min, 2013 / Short
Prod. by C. Frosch & K. Konrad, weltIfilm, AT/DE , Associated Prod. Amira Lekic, deblokada, BiH
DoP: Sandra Merseburger, Cast: Kathrin Resetarits, Leon Lucev, Kamka Tocinovski
Supported by Medienboard Berlin-Brandenburg & Berlin Senate Female Artist Fellowship 2012
THE PLACE WE LEFT
Color, HD, 60Min, 2012 / Feature
Produced by C. Frosch & K. Konrad, weltIfilm, AT/DE & Amira Lekic, deblokada, Sarajevo, BiH
DoP: Clarissa Thieme, Eldar Emric, Protagonists: Zlata Filipovic, Amira Lekic, Edin Forto,
Jasmina Gavrankapetanovic, Drazen Juka, Leijla Hodzic
WAS BLEIBT I STA OSTAJE I WHAT REMAINS
Color, 4K, 30 Min, 2010 / Short
Produced by Jasmila Zbanic, deblokada, Sarajevo, BH & Sabine Derflinger, gegenfilm, Wien, AT
DoP: Eldar Emric
Supported by Zukunftsfonds der Republik Österreich
SCREENINGS / EXHIBITIONS
FRAGMENTA MALTA, solo presentation curated by Bettina Hutschek, Malta 2016 (upcoming)
RAUM FÜR ZWECKFREIHEIT, solo exhibition curated by Jan Ketz, Berlin 2016 (upcoming)
BERLINALE / Forum Expanded 2016
R.S.V.P. Kunst—Dinner, curated by Jan Ketz, Berlin 2015
PRAVJO LJUDSKI, Sarajevo 2015
DOTDOTDOT, curated by Lisa Neumann, Vienna 2015
KÜHLHAUS Whatulookinart, exhibition gruppe hrtz, Berlin 2015
7 FILMS FOR WOLF, Wolf's KINO, curated by Caroline Kirberg, Berlin 2015
FILMMAKER'S CHOICE, Arsenal, Berlin 2015
SARAJEVO FILM FESTIVAL 2014
ESPRESSO, Vienna 2014
DIAGONALE, Graz 2014
WOMEN ARTISTS' PROGRAM, Arsenal, Berlin 2013
LIVING ARCHIVE, Arsenal, Berlin 2013
BIOSCOPE CINEMA, Johannesburg 2013
PLACES, RAUM FÜR ZWECKFREIHEIT, curated by Jan Ketz, Berlin 2013
DAYS OF SARAJEVO, Belgrade 2013
19 FRAMES, GALERIA BOAVISTA, curated by Elsa Aleluia, Lisboa 2013
Exhibition in collaboration with Markus Ruff
DIAGONALE, Graz 2012
SARAJEVO FILM FESTIVAL 2012
KASSELER DOKFEST 2012 nomination: A38 Production Grant
SARAJEVO FILM FESTIVAL 2012
CINÉMATHÈQUE LEIPZIG 2011
BÖLL-STIFTUNG FILMFESTIVAL, Berlin 2011
FRAMELINE34, San Francisco 2011
OUTFEST, Los Angeles 2011
LADYFEST, Berlin 2011
VALIE PLUS, Bildwechsel, Berlin 2011
BERLINALE / Forum Expanded 2010
DIAGONALE, Graz 2010
MARATHON DOC, Copenhagen 2010
MESS, MODUL MEMORIJE, Sarajevo 2010
PRESENT PERFECT, Douala, Kamerun 2010
NGBK, "THEATRE OF PEACE", Berlin 2010
DOKUMENTART, Szcecin 2010
DOCUMENT8, Glasgow 2010
PRAVO LJUDSKI, Sarajevo 2010
FUNDINGS / SCHOLARSHIPS
- Research Fellowship at the Graduiertenschule of the UdK Berlin, 2016-2018
- Berlin Senate Fellowship For Female Artists, 2016
- Medienboard Berlin-Brandenburg, production funding: "RESORT", 2013
- Berlin Senate Fellowship For Female Artists, 2011
- Art Hiza Stolac-Academy, deblokada, Scholarship Script-Writing, BiH, 2011
- Scholarship for Media Art, Heinrich-Böll-Foundation, 2008-2011
- Talent Campus, Sarajevo Film Festival, 2009
- Zukunftsfonds der Republik Österreich, production funding "What remains", 2008