The Collegiate Chorale
Plus
Joined

Location

New York City
Profile Images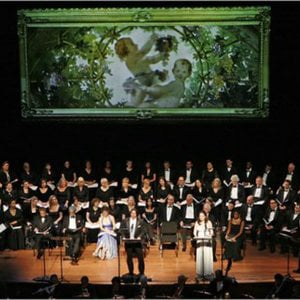 User Bio
The Collegiate Chorale has added to the richness of the New York City's cultural fabric for 70 years. Founded in 1941 by Robert Shaw and taking its name from its first rehearsal space at the Marble Collegiate Church, The Chorale performed under the baton of Arturo Toscanini and has subsequently sung under such conductors as Beecham, Bernstein, Koussevitzky, Maazel, and Mehta.
Through the years The Chorale has established a reputation for its interpretations of the traditional choral repertoire and also for its ongoing commitment to American music and new works—many of them commissions or premieres—performing compositions by such luminaries as Barber, Bolcom, Britten, Copland, Dvorák, Hindemith, and Sessions. The Chorale has also explored the operatic, operetta, and musical theater repertoire, specifically those theatrical works in which the chorus plays a significant role. Opera highlights include American premieres of Dvorák's Dmitri (1984) and Handel's Jupiter in Argos (2008) and New York premieres of Respighi's La fiamma (1987) and Strauss' previously unrecorded one-act opera, Friedenstag, which was recorded live and released on the Koch label in 1991, reaching the top 25 on the classical Billboard charts. Other operas-in-concert have included Gluck's Alceste (2009), Tchaikovsky's Maid of Orleans (2007), Verdi's Nabucco (1998), Giovanna d'Arco (1999), Macbeth (2001), La forza del destino (2003), and Un ballo in maschera (2004); Gershwin's Porgy and Bess (1984); and Beethoven's Fidelio (1985 and 2005).
In 2010 The Chorale performed the New York premiere of Ricky Ian Gordon and Michael Korie's opera The Grapes of Wrath with an all-star cast including Jane Fonda, Nathan Gunn, and Victoria Clark. In 2009, they performed Kurt Weill and Ira Gershwin's The Firebrand of Florence, with Ted Sperling conducting and Nathan Gunn in the lead role, to great critical acclaim. The Chorale has performed other American theater works such as Scott Joplin's Tremonisha (2006), Philip Glass' The Juniper Tree (2007), and the New York premiere of Leonard Bernstein's A White House Cantata (2008).
In 2005 the Chorale appeared at the Verbier Festival in Switzerland, performing the Verdi Requiem under the baton of James Levine. Following the success of that trip, The Chorale has returned to perform at the Verbier Festival in 2006, 2007, 2009, and 2011. In July 2008, The Chorale toured with the Israel Philharmonic Orchestra under the direction of Zubin Mehta, in Tel Aviv, Haifa, and Jerusalem.
Among the many guest artists with whom the Chorale has performed are John Aler, Martina Arroyo, Kathleen Battle, Harolyn Blackwell, Stephanie Blythe, Grace Bumbry, John Cheek, Mignon Dunn, Simon Estes, Lauren Flanigan, Elizabeth Futral, Maria Guleghina, Nathan Gunn, Dmitri Hvorostovsky, Salvatore Licitra, James McCracken, Kevin McMillan, Sherrill Milnes, Leona Mitchell, Paul Plishka,
Juan Pons, Florence Quivar, Bryn Terfel, Benita Valente, Ramón Vargas, and Deborah Voigt. Music Directors for The Chorale have included Robert Shaw, Ralph Hunter, Mark Orton, Abraham Kaplan, Richard Westenburg, Robert Bass and The Chorale's current Music Director, James Bagwell.
Related RSS Feeds
Recent Activity
The Collegiate Chorale

tagged

Side-by-Side: A Transformative Education Program (Trailer)

with

The Collegiate Chorale

,

Collegiate Chorale

,

Side-by-Side

,

Music Education

,

Arts Education

,

Education

,

Music Ed

,

Arts Ed

,

Singers

,

Singing

,

Mentors

,

Youth

,

High School

,

Musicians

,

Carnegie Hall

,

Verbier Festival

,

Israel Philharmonic Orchestra

,

New York City

and

New York

The Collegiate Chorale

tagged

Side-by-Side: A Transformative Education Program (Full Video)

with

The Collegiate Chorale

,

Collegiate Chorale

,

Side-by-Side

,

Music Education

,

Arts Education

,

Education

,

Music Ed

,

Arts Ed

,

Singers

,

Singing

,

Mentors

,

Youth

,

High School

,

Musicians

,

Carnegie Hall

,

Verbier Festival

,

Israel Philharmonic Orchestra

,

New York City

and

New York

The Collegiate Chorale

tagged

The Road to THE ROAD OF PROMISE - Episode 3

with

The Road of Promise

,

Kurt Weill

,

Carnegie Hall

,

Anthony Dean Griffey

,

Ron Rifkin

,

Ted Sperling

,

The Collegiate Chorale

,

Collegiate Chorale

,

Megan Marino

,

Judaism

,

Jewish

,

Rabbi

,

Old Testament

,

Bible

,

The Eternal Road

and

Ed Harsh