Damien Siviero
Joined

Location

Sydney
Profile Images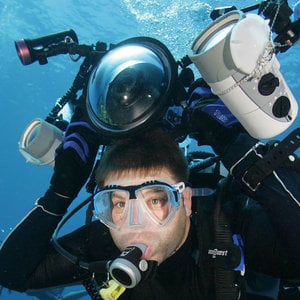 User Bio
Damien Siviero is a Sydney based diver and photographer, with a passion for underwater exploration and adventure. He has over 17 years diving experience and has explored some of the world's best and most remote locations. Damien is an avid and accomplished technical wreck and cave diver, however is just as happy shooting pretty fish on a tropical reef; his photography matches his passion and is a blend of the two worlds.
Although he started working in the dive industry in the mid 90's, Damien now works and as an information technology Enterprise Architect for one of Australia's leading financial services companies. Damien applies his background in technology to both diving and photography in order get the most out of his time underwater. Adapting to advances in DSLR technology has seen him expand into underwater videography and has already begun shooting high definition footage of wreck and cave expeditions. Of most acclaim is his discovery footage of the MV Fairwind project, which has subsequently been broadcast on Australian and International television.
With over 15 years experience in underwater photography, Damien's still imagery speaks for itself. Not only content with documentary style images, Damien strives to produce images that capture the beauty and awe of the subjects he shoots. Many of Damien's award winning still images have been published in various print and digital media.
The use of closed-circuit rebreather technology allows Damien to push the traditional limits of scuba diving, whether diving deep on a wreck or for hours on shallower reefs. A bubble-less diving experience also lets him interact closely with timid wildlife and ensure careless bubbles don't adverse effect images.
Related RSS Feeds