Profile Images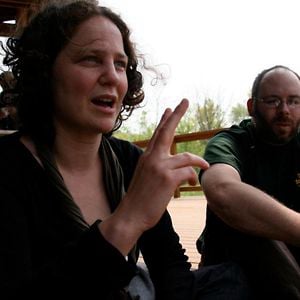 User Bio
Dara Greenwald is an interdisciplinary artist with an MFA in Writing from the School of the Art Institute of Chicago & a BA in Women's Studies from Oberlin College. She was part-time faculty at the School of the Art Institute of Chicago Film/Video/New Media department from 2003-2005 & worked as the Distribution Manager at the Video Data Bank from 1998 - 2005.
Dara takes an experimental and socially engaged approach to art making & is interested in arts potential to contest dominant power and thinking in the hopes of contributing to the transformation of society. She is influenced by punk do-it-yourself culture and the anarchist values of mutual aid and non-hierarchical collective action. Combining this with the careerist individualism that official art, academics, and neo-liberal capitalism breed, she spends much of her time negotiating contradicting notions of "the good life."
Her single channel videos have screened widely at venues such as Yerba Buena Center for the Arts/SF, Ocularis/NY, the Liverpool Bienniele/UK, Eyebeam/NY, Videolisboa/Portugal, the Aurora Picture Show/Houston, & the WORM/Holland. Her writing has appeared in Clamor, the Journal of Aesthetics & Protest, & Bad Subjects & her zine appeared in the Mobilivre traveling book exhibit 2004. She is a founding member of the tactical media group, Pink Bloque (pinkbloque.org). Pink Bloque has appeared at many protests and in various press including the Washington Post, the Chicago Tribune, & on NPR. Dara has appeared as guest speaker at venues including University of Chicago, Columbia College Chicago, 16Beaver Art Space/NY, University of Wisconsin Milwaukee, & Visible Evidence/Montreal.
As a curator, she has presented programs at Pittsburgh Filmmakers, Mess Hall/Chicago, Woodstock Center for Photography, Ann Arbor Film Festival, & Cinematexas. She has collaboratively organized large-scale experimental social convergences including Ladyfest Midwest, Version Festival, and Pilot TV Chicago.