DARIA /Daria Marmaluk-Hajioannou
Joined

Location

Springtown, Pennsylvania (USA)
Profile Images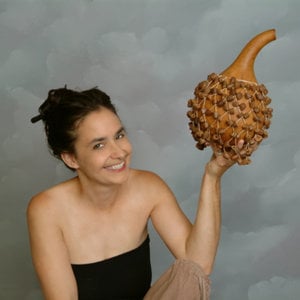 User Bio
Multi-cultural performer and internationally recognized folksinger, Daria (Daria Marmaluk-Hajioannou), has traveled the globe performing, collecting and studying music in over sixteen different countries. In her music she presents songs in a variety of languages; including English, Spanish, Arabic, Hebrew, Zulu, German, Quechua Indian and Oneida (Iroquois). In her popular concerts, Daria shares a wonderful mixture of favorite songs from American and world folk music traditions. She also introduces authentic instruments from around the world and allows her audiences to take part in playing them.
Daria has recorded and released five children's music CD's – GRANDCHILDREN'S DELIGHT, I HAVE A DREAM and BEAUTIFUL RAINBOW WORLD And JADDA, JADDA, JING, JING JING! as well as a multicultural holiday release. These cd's all share a vision of a world of dignity and respect for all peoples. She also hosts a popular children's music website - dariamusic.com.- that received a 2009 PARENT'S CHOICE AWARD and features songs, coloring pages, activities, crafts, build-an-instrument and hear-an-instrument sections as well as special keys for parents, teachers, homeschoolers and kids of all abilities.
Daria Marmaluk-Hajioannou received a 2007 Pennsylvania Council On The Arts Arts Commentary Award administrated by the Pennsylvania Humanities Council. With a passionate interest in music and community-building, Daria holds a degree in ethnomusicology and is active in Native American, Peace and Children's issues. She is a delegate to the UN Permanent Forum on Indigenous Issues and lives with her family on a farm outside of Bethlehem, Pennsylvania (United States).
For complete information, visit dariamusic.com or contact Daria at (610) 346-9087.