Profile Images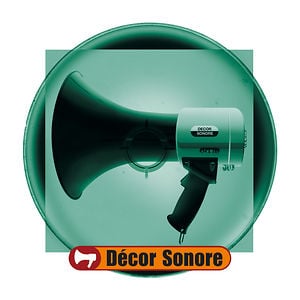 User Bio
Dirigée par le compositeur Michel Risse, la compagnie Décor Sonore est un outil de composition et de réalisation unique en son genre, dédié à la création sonore en espace libre.
Dans des formes extrêmement intimes ou pouvant rassembler des milliers de spectateurs, ce « théâtre de sons » plein de poésie et d'émotion métamorphose les objets quotidiens et les espaces urbains en instruments de musique, et les passants ordinaires en mélomanes exigeants. Reconnue internationalement comme l'une des compagnies françaises les plus innovantes, Décor Sonore est aussi un « lieu de fabrique » sans équivalent tourné vers la création sonore en espace libre et vers la transmission et la sensibilisation à l'écologie sonore.
Directed by composer Michel Risse, Décor Sonore is a unique composition and production tool, aimed at sound creation for open spaces and street arts.
The city is Decor Sonore's support and material for its dramatic investigation. Its creations indulge in sounds, resonances, harmonies of natural or industrial elements our everyday urban life is composed of, to offer us a unique perception of the world.Its unusual productions invite us to listen to our sound environment differently and re-invent our relationship to music.
Internationally regarded as one of the most innovating French companies, Décor Sonore offers the public uncommon entertainments combining drama, pyrotechnics, poetry, technology, humour, and, of course, musical creation. Its productions range from very intimate forms to huge events, and talks to every audience.
Besides producing its own works, Décor Sonore developed the Fabrique sonore (« The sonic Factory »), which supports innovative works by other artists and companies, expecially in the fields of the street arts and new stages. Its activities include researches in specific sound technology and media, education in sound and music staging, and acoustic ecology.
Related RSS Feeds