Deloscinari
PRO
Joined

Location

Denver
Profile Images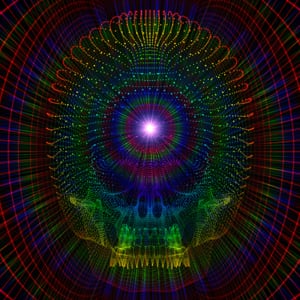 User Bio
Deloscinari: A psychedelic (mind-expanding) hallucination; a hybridization of root words delos (psychedelic) and allucinari (hallucination).
Prepare to be optically electrified. Deloscinari's live VJ sets are visual poetry come to life. His vibrant patchwork of rhythmic imagery will take you on a voyage. Fusing audio, video and intention, his mind-blowing video mixing will transport you to higher dimensions. This isn't just art- it's an experience. He mixes up to eight different layers of video, simultaneously, in a vibrant flux that will ensnare and astonish your senses. This is a journey into sight and sound, guided by digital shaman, Deloscinari.
Sean Blake burst onto the electronic music scene as Deloscinari in 2007 in Orlando, Florida. His undeniable affinity for both art and technology assured him a spot in the local scene immediately. His early VJ days were propelled forward by his simultaneous schooling- a bachelor's degree in media design followed by a master's degree in brand identity. He delivers hi-tech, surreal, and transdimensional imagery that continuously captivates audiences. Because of his innate attraction to things both technical and creative, Sean adapted quickly to the medium of video and flourished soon after his debut, playing some of the biggest electronic music events in North America in his first year alone.
Growing up on Florida's east coast allowed Deloscinari to ingest all of Florida's audible flavors of electronica, including electro, trance, house, breaks, drum n' bass and dubstep- genres that allow him to steadily adapt and refine his creative vision. He also found a home in the jam scene, flooring festival-goers across the country. While his style ebbs and evolves to suit the occasion, his decisive purpose remains the same- to communicate visually. Ideals like love, oneness, transcendence, awakening and understanding don't just permeate his art, they explode in light. Simply put, he makes the pretty pictures move- and move you.
Related RSS Feeds