Derek Frey
PRO
Joined

Location

London, Philly, Los Angeles
Profile Images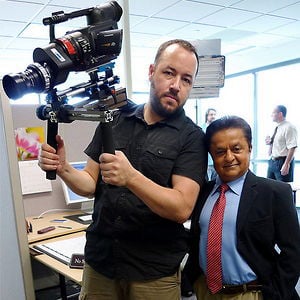 User Bio
Filmmaker Derek Frey has a long and successful working relationship with director Tim Burton, running Tim Burton Productions since 2001. Most recently Derek co-produced Frankenweenie, which received an Academy Award nomination for Best Animated Picture in 2012. That same year he produced the music video Here With Me for The Killers. Derek is currently serving as Executive Producer on Big Eyes, starring Christoph Waltz and Amy Adams, slated for release this Christmas. Up next he'll Executive Produce Miss Peregrine's Home for Peculiar Children starring Eva Green and Asa Butterfield.
Derek has worked on over 15 feature films, including as Associate Producer on Alice in Wonderland, Dark Shadows, Sweeney Todd: The Demon Barber of Fleet Street, Abraham Lincoln: Vampire Hunter, Corpse Bride, and Charlie and the Chocolate Factory. His credits also include producer on the documentary A Conversation with Danny Elfman and Tim Burton; writer of the Frankenweenie-based short film Captain Sparky vs. the Flying Saucers; and editor of the comprehensive and award-winning publication The Art of Tim Burton. Derek worked closely with curators from the Museum of Modern Art for the creation of the Tim Burton touring exhibit, which has made record-breaking stops in New York City, Toronto, Melbourne, Paris, Los Angeles, Seoul, Prague and Tokyo.

Derek has directed his own films and music videos, including The Ballad of Sandeep, which has appeared in over 35 film festivals and brought home 16 awards, including Best Director at the Independent Film Quarterly Festival and Best Featurette at the Las Vegas International Cinefest. In 2013 he directed the comedic short Sky Blue Collar, which was awarded Best Director of a Short Film at the 2013 Chicago Comedy Film Festival and Best Picture at the International Film Festival of Comedy, Romance, Musical. He recently completed work on Motel Providence, filmed in Media, Pennsylvania and is currently in post-production on the featurette horror Green Lake, shot on the Big Island of Hawaii.
Derek was born in Drexel Hill, Pennsylvania, and holds a Bachelor of Arts Cum Laude in Communication Studies from West Chester University.
Specialties:Film Production, Directing, Producing, Editing, Photography, Feature Films, Short Films, Animated Films, Music Videos
imdb.com/name/nm0294553/filmoyear
Related RSS Feeds