Yoga for Health and Wellbeing
Joined

Location

Miami Beach, Florida
Profile Images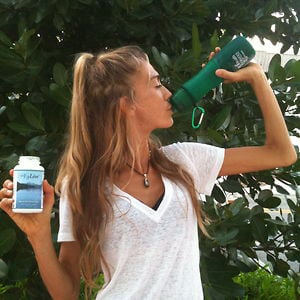 User Bio
Alessandrina Lerner was born and raised in Paris, France. At just 22, she obtained her MBA in International Finance & Strategic Marketing with merits from France's leading School of Economics & Business Management, Université Paris IX Dauphine. She also holds a BS in Economic & Political Sciences, obtained with merits from the same Ivy League university. She lived across 4 continents, traveling to more than 60 countries over a period of 7 years while pursuing a career in International Finance as the Director of Corporate Audit for leading financial institutions, including American Express, Citicorp/ Citibank and Visa International, a position she resigned from in 2000 after she gave birth to her first child.
While Alessandrina had been practicing the science of Yoga Nidra since 1994, it took another 7 years before she fully committed herself to spirituality and the yogic path. In the wake of September 11 2001 and the symbolic meaning if carried for her, Alessandrina became the disciple of Swami Brahmavidyananda Saraswati (Swami Ji), Director of the Institute for Holistic Yoga, an Ashram associated with the Satyananda Tradition of Yoga, from the lineage of the internationally renowned Indian guru, Swami Sivananda Saraswati. She trained and practiced one on one under the expert guidance of Swami Ji for a few months in the science of Kriya Yoga and Meditation. There, she also received training in Vegetarian Nutrition and Purification Techniques. Two years after completing her internship in Yoga Therapy, Alessandrina was initiated into Surat Shabd Yoga, the science of Light & Sound Meditation (an advanced form of Nada Yoga) by Saddhu Ram Ji, a Saint from the lineage of the highly revered Maharaj Sawan Singh Ji and Kirpal Singh Ji. In the years following her apprenticeship, Alessandrina used her experience mainly to grow her personal practice as well as teach adults and children both privately and in Montessori and Charter schools.
In early 2004, Alessandrina felt the need to expand her field of knowledge and trained in Sound Therapy with Advanced Brain Technology. Following this training, she received certification as a provider of The Listening Program (TLP), a therapeutic sound/ music stimulation program aimed at restoring auditory functions, enhancing brain functioning, and improving mental and physical well-being.
In 2009, Alessandrina decided to dedicate herself to writing, something she had been doing her whole life as a hobby. In the 2 years that followed, she published 6 books, 3 of which are 'Inspirational Writings & Modern Spiritual Poetry' and a 'Spiritual Comedy' entitled, "Spiritual Enlightenment in the Age of Cybersex". Her last 2 books include a comprehensive guide to 'Holistic Cleansing' and a 400-pages most complete guide to 'Children Yoga' (intended not only to yoga teachers willing to receive Yoga Alliance certification in Children Yoga but also to teachers, educators and parents who wish to bring the practice of yoga, breathing, and meditation and their manifold benefits into their lives.)
Alessandrina is involved in various charitable projects including "Dreamcatchers for abused children". In 2010, she hosted a monthly Radio Show, the "Let Love Rule" Radio Show, which promoted ways to make the world a better place, and also wrote the Enlightenment Column for the "Poetic Monthly Magazine".
That same year, Alessandrina completed two Yoga Teacher's Trainings in Power & Vinyasa Yoga, expanded her expertise in Plant-based Nutrition Counseling at Miami Yogashala under the expert guidance of Yoga Master Fred Busch and came onboard Yogashala as a teacher. After only two months on the team, she became a facilitator for the Teacher's Training teaming up with Miami's top Yoga Teacher's Training School and one of the best Yoga schools in the country. During that time period, Alessandrina also completed her Reiki Level 1 Certification and has integrated her healing skills in her Yoga Therapy curriculum. She continues to teach a few public classes but dedicates most of her time to private teaching and counseling. She is the owner and executive director for The South Beach Detox, which programs she designed and runs all year long.
Alessandrina has been following a plant-based diet for over 25 years now. She loves reading and writing Poetry and Self-Improvement Literature of a spiritual nature. She is a sports lover who enjoys swimming, hiking, and any and all fun sports. She enjoys traveling and everything that involves Nature. Music is her first love (she plays bass guitar and drums whenever she has some free time). Yoga comes close seconds. Africa, where she lived for 3 years, is her favorite continent and bears some of her fondest memories. She dedicates all her free time to homeschooling her young daughter, her personal spiritual growth and loving life.
For more information on Alessandrina, please visit her website at letloverule.us
thesouthbeachdetox.com