Dafunky Situation
Joined

Location

Toronto
Profile Images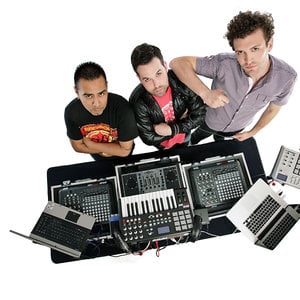 User Bio
Dusty Dust, Mike S and Kimo C are putting a new spin on the term Dj as they're far from what you're used to. With their latest release, Control the Moment, Dafunky Situation proves they're still changing the game. "We're in Control of every aspect of our performance. We're doing things on the fly, whether it's the variation you hear within a song, clearing room for live vocals or performing a live remix in the middle of a breakdown; it's all us." as said by, Kimo C.
They describe themselves as an electronic band, but mix everything from house to hip hop, breaks, funk, electro and progressive to produce an innovative new style, you never would've thought possible. In a nutshell, Dafunky Situation performs music with a live MC, taking various parts of different songs, coupled with live elements to put their own spin on the Electronic music experience. Attempting to purchase a song you may recognize after attending one of their shows, often leads to disappointment and frustration, as chances are, that version has been tweaked or re-edited by the group, so it's an experience to watch them perform live!
It all started in 1999 when Michael Schembri "Mike S" and Miguel Culajay "Kimo C" launched an Internet radio show on woofer.com. Internet radio was fairly new at the time and the radio station had closed after a year of operation.
In February of 2009, Akai Professional announced they would be releasing a controller for music software developer Ableton called the Akai APC40. While awaiting its release, Dafunky Situation created a theory based around the APC40 on how they could make Controllerism work within a live performance. The group prepared their new setup and also started remixing and re-editing music in anticipation of the upcoming release date. When the controller was finally released in May, their method on how to use the APC40 worked and quickly became their new weapon of choice and the foundation from where their funky sound resonates. "Preparing a template of effects and channel strips, along with creating the rules or language to communicate while performing, was probably our biggest success as it took the most time. It's truly what sets our show apart from others when we play." comments Mike S.
In September 2009, the duo was joined by Dustin Shanks "Dusty Dust". "I was living in Australia at the time and came across the music that Mike and Miguel were posting online. We grew up together and hung out in similar venues, so a lot of our influences were similar and everyone involved had an idea or expectation of what we could do together." After a few studio sessions it was evident that Dusty Dust was the missing piece of the puzzle; becoming a permanent fixture and the Front Man of Dafunky Situation in October of 2009.
DJ P-Plus of CFXJ-FM Flow 93.5 FM in Toronto got wind of the group's talents through videos on Youtube. After contacting the group he had them perform at the Stylus DJ Awards Annual VIP "Mix and Mingle" BBQ event in August 2010 for nominees and industry critics. With the who's who of Canadian music in attendance, Dafunky Situation nailed their performance garnering them much respect, which was the catalyst for the momentum of the group today.
"Control the Moment" is the dynamic trio's first Mixtape and is scheduled for release in June 2011. With sounds unlike any other, it's sure to become one of your favorites.
For Press/Media inquiries
Courtney Roberts
647-926-8501
media@dfsmusic.com
Related RSS Feeds