Dilek PR
Joined

Location

Basel City, Switzerland
Profile Images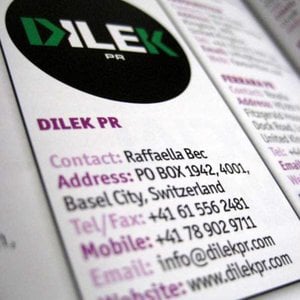 User Bio
Dilek PR is the smart solution number one in Europe, for labels and artists of the electronic music industry, who want to increase their sales and popularity. Our idea in this industry is born of complex thoughts between the logistics and the distribution of Dilek Records and Darek Recordings, but since many years, we are working in the promotion of the following brands: 31337 Records, Motech Records, Presences Recordings, Flumo Recordings, Appetit, La Folia Recordings, Aconito Records, Denkbar, Miniload Records, Polarnoise, Hypercolour, Mono Records, Black&White Orange Records, Sturdy Recordings, Hummingbird, Sleaze Records, The Cruzaders Records, Electrophil, FTW Recordingz, Home Made, Blaq, Pantamuzik, Lust Recordings, Hontas Records, Headset Recordings, Taekyon Music, Vicario Musique, Neovynil Recordings and many others who constantly ask for our services.
Being conscious that it is VITAL to differentiate them from the rest, with the right promotion. Pointing at the public who consumes and who therefore especially, consumes their music. We know that difficult times are coming, and the only method of not falling down in the attempt, is to appear in a right way and especially, personalized, without excess but with success. Basically what we offer is to realize a plan of professional work, with people being employed at this during more than 10 years, and who know every secret of the promotion, from the feedbacks of the most important artists of the industry, up to the banners, videos and microsites.
We create opportunities for you and your brand, by using professional contacts and tools, to offer you the best promotion for your music. Our goal is to help you in a clever way, also by supporting your releases, and we guarantee you a clean and successful work. For our professional promos, we will customize all our work for every one of you, and it will be the same for all the services that are on our list on: dilekpr.com and facebook.com/dilekpr.
Contact me anytime for more information!
Thanks and best regards,
Raffaella Becchina / CEO
info@dilekpr.com
My Specialties:
Music Advertising, Media Activities, Marketing, Publicity, Promotion, Public Relations, Viral Effective Campaigns, Microsites, YouTube Advertising, Facebook Advertising, SoundCloud Promotion, General Digital Promotion, Artist Management, Artists Bookings, Tour Management and more.
Related RSS Feeds