Profile Images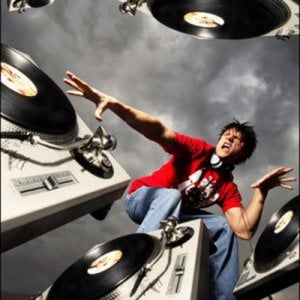 User Bio
D.J.P is Danny Phillips, a party-rocking Hip Hop DJ hailing from Springfield, Missouri. Now, Springfield may not seem like a hotbed for Hip Hop talent, which is why D.J.P has had to work that much harder to put his genre-mixing brand of Hip Hop on the map. And he has.
D.J.P is one of the pioneers of "blending," a style that has recently become commonly known as the "mash-up". His first big break came in 1999. He had won the DMC Midwest Championship a few months prior and was now competing against the country's top turntablists in San Francisco at the 1999 DMC US Finals. His cutting and scratching were excellent, but it was the unlikely songs he was doing it with that showed just how much he could move the crowd. Ever the b-boy, P topped his performance off by coming out in front of the tables and breaking and popping. He was the only DJ who received a standing ovation that night at The Palace of Fine Arts. D.J.P had put his by any means necessary crowd-pleasing b-boy style on the map.
In a world where Hip Hop DJs are either technical underground nerds or Top 40 Hip Hop jukeboxes, D.J.P is the best of both and more. He finds that raw excitement and crowd-pleasing energy in the most unlikely of places: 80s New Wave, classic and alternative Rock, even Drum 'n' Bass, as well as the usual can't lose Hip Hop favorites, old and new. He can mix Pat Benatar's "Love Is A Battlefield" over the Pharcyde's classic "She Keeps On Passing Me By" and turn it into a Drum'n'Bass blend about love lost that gets everyone on their feet, even people who think they don't like hip-hop. His underground Hip Hop mixes of Journey's "Don't Stop Believin'" and U2's "With or Without You" have become word-of-mouth classics with underground DJs.
Likewise, D.J.P's mix discs have taken on lives of their own. "Uneasy Listening Vol. 1" introduced audiences to the "Rhinestone B-Boy." "Uneasy Listening" blended everything from Phil Collins and Del Tha Funkee Homosapien to Madonna's "Like A Prayer" and the famed "Apache" breakbeat. Although it was only released in a limited 1000-copy pressing in 2000, it showed up everywhere: in constant rotation on Kid Rock's tour bus stereo, in England where it was bootlegged onto vinyl, and on critics' Top Ten lists (New York's Village Voice, etc.). Rolling Stone even named "Uneasy Listening" as one of the "Top Musical Moments" in 2002 - two years after its release.
P's subsequent discs ("Out of Control," "Assholez and Elbowz," and his Halloween-themed "Hell on Wheels" series) have likewise become underground classics. "Hell On Wheels Vol. 2" took Biggie Smalls, Mystikal and the Beatles and blended them into a favorite disc of 2003 in critics' polls from New York to Portland, Oregon, where the disc has become a cult classic praised-completely unsolicitedly, mind you-in the local media.
But these mix discs are just an extension of what D.J.P can do live-his true weapon of choice. He has been touring the country for half a decade, beginning with MTV's 1999 Campus Invasion Tour with alt rockers Garbage and Lit, and in the summer of 2003 with 311.
D.J.P has held club residencies at New York City, Springfield MO and Portland, OR, Seattle, WA and many other cities. Most recently he has taken up residence in Las Vegas, where he can be seen every weekend at Club Moon / Playboy Club in the legendary Palms Casino. His resume also includes gigs with Ice-T, Tone Loc, Sugar Hill Gang, Rahzel from the Roots, Cher and Cindy Lauper, The Pharcyde and Del Tha Funkee Homosapien's Hieroglyphics, D.J.Premier, DJ Jazzy Jeff, Snoop Dogg, the Red Hot Chili Peppers, Green Day, Beastie Boys, and many more.
In the winter of 2006 D.J.P officially joined the ranks of the legendary Rock Steady Crew. Expect to see much more of D.J.P in the near future, including a feature length documentary called "For Promotional Use Only."