Dr Barnouti
Joined

Location

Sydney, Australia
Profile Images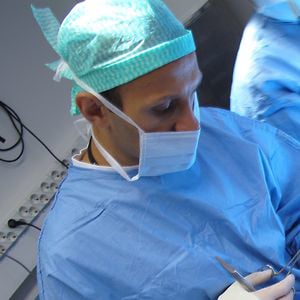 User Bio
Over the past several years, more and more Australians are turning to plastic surgery to correct or enhance their appearance. The days of trying to guess whether someone has surgically altered the size or shape of their breasts, had a face lift, nose job or some other aesthetic procedure are practically gone, as discussing what 'body work' one has had done is commonplace and acceptable. As a result, more and more plastic surgeons have opened clinics in the greater Sydney area, giving those seeking to alter their appearance, whether for medical or aesthetic reasons, a greater opportunity to find the plastic surgeon that is right for them.
Dr. Laith Barnouti is the first choice for many of these people. Highly recommended by patients and peers, Dr. Barnouti is known for his high standard of professionalism and unquestionably integrity. Patients report how, from the very first consultation, Dr. Barnouti puts them at ease and instills a feeling of security as he assesses their needs, then conscientiously discusses all viable options in detail. Dr. Barnouti, who completed his studies at RACS, continued his education in plastic surgery at some of the world's most renowned international clinics, and continues to stay abreast of ongoing developments in the field. The doctor extensive knowledge about different surgical techniques makes him uniquely qualified to perform a comprehensive range of procedures in order to provide exactly what each individual patient needs, rather than trying to fit the clients' needs into his skill set.
Dr. Barnouti is known among his peers for his readiness to share his knowledge and experience with others. Medical convention organizers seek out his participation as a presenter and he has published several articles in professional publications. In addition, Dr. Barnouti has an extensive web sites where patients can review the latest information about the procedures he performs, reviews from patients and a gallery of before and after pictures. It also provides links to Dr. Barnouti's informative blog, reviews and videos.
Dr Barnouti, a leading Sydney Plastic Surgeon specialises in cosmetic surgery that emphasis on creating natural beauty of the face, breast and body.
Dr Barnouti has over 13 years of surgical experience were he performed over several 1000's of surgical procedures, making renowned Dr Barnouti exceptionally experienced in the field of cosmetic surgery. He is renowned for his media and literature contribution.
With fifteen years of experience and procedures numbering thousands to his credit, Dr Laith Barnouti is a specialist in what he terms the art of plastic surgery. The byline of his clinic in Sydney, Australia, is "natural beauty through art and science" and refers to said clinic as "the place where the art happens", rather than as a medical facility. Dr Barnouti is however a fully qualified and licensed surgeon, with specialist training in plastic surgery, and is a Fellow of the only organization statutorily recognized for the training of plastic surgeons, the Royal Australian College of Surgeons, and the clinic is equipped with the latest in medical equipment and technology. One of the things most important to Laith Barnouti in his practice is keeping up with what is happening in the world in his field, and he frequently attends conferences, seminars and advanced training sessions to this end. Among the many international training and fellowship sessions he has attended in cosmetic/aesthetic plastic surgery in South America and Europe have been at the Pitanguy Institute of PLASTIC Surgery in Rio de Janeiro, Brazil and the Facelift Centre in Belgium Brussels. In the US Dr Barnouti has trained at the prestigious Cosmetic Plastic Surgery center in Beverly Hills California and Jacksonville Cosmetic Plastic Surgery in Florida.
While among the procedures most widely requested from Dr Barnouti are face lifts and breast augmentation, he has the required skill-set, experience and facilities to provide the entire spectrum of cosmetic surgery for both women and men. Procedures include, but are not limited to, cosmetic plastic surgery of the face, nose, ear, breast and abdomen (tummy); as well as liposuction, genital surgery and many other plastic surgery procedures. In all the procedures he performs Dr Barnouti is governed by four principles – successful surgery that will leave as short a scar as possible; an open and honest communication channel with his patients, in which he listens to what they want and strives to achieve this; use of best-in-class and most modern techniques and methods; and total commitment to all relevant safety standards and regulations. Dr Barnouti works from several privately run clinics in Sydney, Burwood and Chatswood, and private hospitals such as the Broadway Day Surgery, Hunters Hill Private Hospital and more. Concurrent with his private practice, Dr Barnouti carries out reconstructive plastic surgery in the public hospital at Bankstown.
Dr Barnouti is particularly skilful in the combination of art and science in a way that enhances his patients' natural features, resulting in a more natural appearance after the cosmetic surgery. He is attentive to his patients' wishes, as well as their concerns, and takes all elements into consideration prior to recommending one treatment or another. He believes that by reshaping or redefining body parts, or changing facial contours, a person feels better about himself, and thus his self-confidence is boosted.
Through his many years of experience Dr Laith Barnouti has acquired an enormous amount of knowledge and information that he shares with peers and the public through his personal and professional blog, magazine interviews and videos.
Is plastic surgery art or science? If you ask Dr Laith Barnouti this question you will probably be answered "both". Perhaps this is best expressed by one of his patients who has compared to an artist or sculptor. He believes that cosmetic plastic surgery integrates art and science, with the ultimate aim of enhancing the patient's natural features to create a natural beauty of the breasts, body and face. In addition to being fully qualified, having performed thousands of procedures in his 15 years of practice makes Laith Barnouti a leader in his field in Australia. He is a qualified surgeon (MBBS) and has completed further training is plastic surgery, granting him fellowship in the Royal Australian College of Surgeons, the only statutorily recognized body for training plastic surgeons. He is also a member of the Australian Societies of Plastic Surgeons and Aesthetic Plastic Surgeons. Dr Barnouti's works and views are also well published across various media, including his blog and several magazine articles. Laith Barnouti has completed further training at some of the best know cosmetics centers in the United States, Europe and South America, among these the Centre of Body & Buttock reshaping and implants in Sao Paulo, Brazil; the Facelift centre in Belgium and more.
Dr Barnouti performs his procedures using state-of-the-art techniques and minimal invasion, which result in short scarring. He offers a broad range of procedures meant to enhance any and all parts of the body. These include liposuction, face lifts, rhinoplasty and many more. Dr Barnouti's patients are not all female – he also offers a range of procedures for men. In his practice Laith Barnouti follows four basic principles, which he believes contribute to his success. He tries for successful outcomes that leaves as short a scar as possible; he believes in open and honest communication with his patients, making sure that he understands their wishes, and then does his best to achieve these; he makes sure that he is totally au fait with all the latest and best advances and trends in the field, and all procedures are performed with the strictest adherence to safety regulations and standards. Dr Barnouti is well aware of the connection between body image and self-image, which is why he places such importance on the element of communication with his patients and helps them make the decision that is right for them. He also prides himself on excellent pre-and post-procedure care, preparing patients well for what they should expect both before and after the procedure.
The Sydney Plastic Surgery is one of the private clinics out of which Dr Barnouti operates. He also has privileges at a number of other private clinics in Sydney and its surroundings, such as Strathfield, Hunter Hill and Westmead Private Hospitals and the Broadway Day Surgery. Alongside the cosmetic surgery Laith Barnouti performs at these private clinics, he also does reconstructive surgery at the Bankstown public hospital.
Related RSS Feeds