EL CONDUCTOR
Joined

Location

USA
Profile Images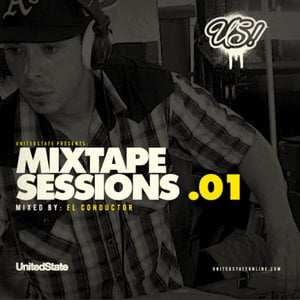 User Bio
For El Conductor, music has always been around. His grandfather blew the horn as a touring jazz musician, father a percussionist and eventually he too was drawn to the drums. From an early age he did not discriminate or fixate on a specific genre. His love for the core elements of hip hop eventually led to an intense study of the legendary DJ's and artists who came before. At an early age he started digging in the crates, collecting gear and absorbing everything he could about music culture. This obsession has carried on professionally for the last 18yrs.
A northern Cali kid through and through, life called him to Phoenix AZ, playing house parties, raves and regularly attending the renowned Bomb Shelter functions. His time in Arizona proved to him that it could be done, and his passion grew more focused and intense. El Conductor returned to California, finding a home in San Francisco with the Compression Crew SF.
Scratch, juggle, blend and mix, a well-rounded arsenal of sonic weapons is necessary. El Conductor has played on the national level both as a solo artist, and as a member of the dynamic DJ duo Low Brow Beats (with DJ HAVOC), and is an integral part of the progressive psychedelic electro funk band, Set Theory.
He has shared the stage with groundbreaking artists and musical legends including: De La Soul, ?uest Love, Kid Sister, Grand Wizard Theodore, Collie Buddz, Z-Trip, Qbert, Craze, Egyptian Lover, Jazzy Jeff, Dizzee Rascal, Goldie, Disco D, The Cataracs, Cesar Comanche, Hollertronix, J Boogie, Mystik Journeymen, Planet Asia and many more.
El Conductor is a member of the Sound Master / Pinnacle College Allumni as a Certified Audio Engineer and continues to push strong, enhancing both his performance, composing, remixing and engineering talents. His eclectic sets and mixes maintain a vibe that cross and interbreed genres while always keeping the dance floor funky, keeping the heads bobbing, and keeping the haters scratching their chins in respect.
Other crews, sponsors, tours and affiliates include: Maloof Money Cup, Just One Entertainment, VANS Warped Tour, United State, Compression Crew SF, Indie Pop, LETS DO SCIENCE, RONIN SKATE SHOP, SKULL CANDY, TANK THEORY, Heritage Clothing and Apparel, Nine16 Skateshop, Under the Table, Versus Mag SF, Under Sound Music
Links:
WWW.DJELCONDUCTOR.COM
myspace.com/djelconductor
twitter.com/ELCONDUCTOR
facebook.com/DJELCONDUCTOR
justoneent.com/
LOWBROWBEATS.COM
maloofmoneycup.com/
Mixes:
UNITED STATE MIX VOL 1 By El Conductor
yousendit.com/transfer.php?action=download&ufid=THE3S3ducVg5RlpjR0E9PQ
RCRD LBL MIX VOL 1
yousendit.com/transfer.php?action=download&ufid=bFFQeW44NDJrWTgwTVE9PQ
EL CONDUCTOR MIXES DJ4AM
yousendit.com/transfer.php?action=download&ufid=cmcxeVdxZy9WRC92Wmc9PQ
ELECTRO FUNK MIX VOL 1
yousendit.com/transfer.php?action=download&ufid=TTZrSU5La0RCSnJ2Wmc9PQ
N.A.W. LIVE (El Conductor & DJ HAVOC Live 2x4)
yousendit.com/transfer.php?action=download&ufid=WnBTcmxWaTFuSlRIRGc9PQ
BOOKING:
Just One - justoneent.com/
Entertainment/Booking/Management/Promotions
Related RSS Feeds
EL CONDUCTOR does not have any videos yet.
Recent Activity
^With your initial comeback to Martin (LMFAO@ "Your gay and unusable."), you immediately squashed any of my preconceived notions of you being a geek with no sense of humor :) Really diggin what you guys have done keep going! hopefully we can collab…