Eli Efi
Joined

Location

Bronx/São Paulo
Profile Images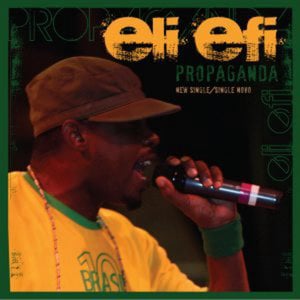 User Bio
Eli Efi is a hip hop artist, born and raised in São Paulo, Brasil. In 1988, he founded the politically charged rap group DMN was its front man until 2004. DMN recorded their first single for the "Consciencia Black" compilation in 1991. In 1992, they released their first album "Cada Vez Mais Preto" followed by "H.Aço" in 1998, "Saida de Emergencia" in 2001, and "Essa É A Cena" in 2003. Under Eli Efi's leadership, the group received acclaim from both the hip hop community and the musci industry. The group has been nominated for best video and best rap group at the MTV Brazil Video Music Awards, best rap song of the year at the Hutus Hip Hop Awards Festival, and won best music video at the São Paulo Shorts Film Festival.
In 2004, he left DMN and now continues his musical career alongside DJ Laylo. Blending banging beats with sharp lyrics, Eli Efi & Laylo bring forth the best of Brazilian Hip Hop. Together, they bring hip hop back to a place where MCs rocked alongside DJs to move the crowd but with an international flavor with Eli Efi rhyming in Portuguese and Laylo always finding a way to blend some Samba or Salsa into the brew. They have performed throughout the United States, Brazil, Mexico, Colombia, and Chile and have shared the stage with all the biggest names in international hip hop as well as U.S. based artists such as Chuck D do Public Enemy, KRS One, CL Smooth, Les Nubians, Styles P, Dead Prez, Talib Kweli, Jean Grae, Jeru da Damaja, Immortal Technique, Ras Kass, Lord Finesse, Hurricane G, David Banner, among many others.
Eli Efi has become well-known and respected for his hard-line stance against racism, poverty, and injustice not only onstage but in his community as well. Eli Efi has worked in numerous community based and political projects. He was a long time member of Abevic, a neighborhood association that uses hip hop culture to work with young people to promote critical thinking and cooperative work and offers alphabetization classes to adults and elders. In 1998, he was one of the organizers of the now historic Hip Hop, Juventude, e Lula Festival which brought some of the most progressive rap artists together in support of Lula, the current president of Brasil. He was an educator for a series of arts and political education workshops sponsored by Zulu Nation Brasil in São Paulo. Eli Efi continues his work with young people as a teaching artist throught the New York City public school system.
Eli Efi's artistic and personal journey is chronicled in the documentary, "Estilo Hip Hop", which will air nationally on PBS on June 28, 2009. In addition to being featured in the film, Eli Efi also produced the score for the documentary. He is currently working on his first solo album which will be released Fall of 2009.
Related RSS Feeds
Recent Activity
Eli Efi does not have any activity yet.