Admiral Farragut Academy
Joined

Location

St. Petersburg, Florida
Profile Images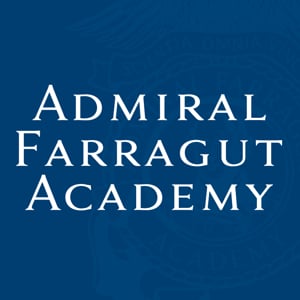 User Bio
Admiral Farragut Academy, established in 1933, is a private, college prep school serving students in grades PreK3-12 for Preschool, Elementary School, Middle School, and High School. Farragut is located in St. Petersburg, Florida in Pinellas County and is surrounded by the communities of Treasure Island, Gulfport, Pasadena, Tierra Verde, and Seminole. Farragut also serves North Pinellas County, which includes the communities of Clearwater, Belleair, and Palm Harbor.
Starting in PreK, students benefit from a challenging and engaging academic curriculum, such as foreign languages (Mandarin Chinese and Spanish), STEM (Science, Technology, Engineering, and Math), marine science at the campus' waterfront, hands-on field trips, and are all taught using a strong foundation of Character Education.
Once students reach 8th grade they may also enroll in unique academic courses like Aviation (including Dual Enrollment with Embry-Riddle Aeronautical University), all levels of Scuba Diving, Sailing, and Engineering. All students in 8th-12th grade are part of a Naval Jr. ROTC (NJROTC) program because Admiral Farragut Academy is one of only two Honor Naval Academies in the United States--so designated by an Act of Congress and reaccredited each year by the Department of the Navy. If students are interested in pursuing a career in the military they have an advantage by attending Farragut because the officer in charge of our Naval Science Program has the authority each year to make the following nominations: 6 nominations to the U.S. Naval Academy, 5 nominations to the U.S. Air Force Academy, and 3 nominations to the U.S. Military Academy at West Point.
Farragut also has a strong 5 or 7-day boarding program for students starting in the 8th grade. Because Farragut is a Florida boarding and day school, the school attracts students from an average of 32 countries and 17 U.S. states. The national and international community makes attending Farragut a global experience.
With a 100% college acceptance rate, graduates from Farragut succeed in college as organized, accountable, self-disciplined, and respectful critical thinkers who understand that dreams and hard work go hand in hand.
Related RSS Feeds