F*CK vision
Joined

Location

BCN.MAD.IBI
Profile Images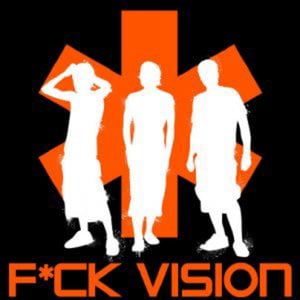 User Bio
F*CK vision project begin to roll in 2004 and three years later it´s redefined as a hybrid between visual collective and web/video design studio.
We form basically a visual design studio interested in the development and the visual "shaking". In technology joined to creativity. In video and life visuals.
"It´s necessary to give a different meaning to the word videojockey …… needs to be understood in a different way from the disco image thrower"
We divide in three our development areas: STUDIO (graphic design, web, video) LIVE (vjing, installations, motion graphics) LAB (our most experimental area, own patches developed in isadora and pure data, research with processing and c++, workshops, courses and seminaries)
Fuck vision is formed by 3 colleges: Javi, Oscar y Txampa. Three "non stop" searchers of design, of movement on it´s maximum expression, of image and it´s communication, of the rhythm and it´s synchronization. Three ultra dynamic and determinant pieces.Three pillars on which our way of life is based.
"We dedicate our personal and professional life to the own management of our dreams. We dream about something, we produce it to obtain it. This is for us our life philosophy, our leitmotiv, the reason to do what we do. We do not want to be another flat mind at the office.
______________________________spanish
F*ck Vision inicio su carrera en el 2004, y tres años después se redefine como un híbrido entre colectivo de vjs y estudio de diseño web/vídeo para clientes.
Básicamente somos un estudio de diseño visual interesados en el desarrollo y la agitación visual. En la tecnología y la creatividad. En el vídeo y los visuales en directo.
"Es necesario darle otro sentido a la figura del videojockey, enfocarlo de otra manera, que no sea la de simple lanzador de imágenes de discoteca"
Dividimos en tres nuestras áreas de desarrollo: STUDIO (diseño gráfico, web y vídeo), LIVE (vjing, instalaciones, motion graphics) y LAB (nuestra parte más experimental, patchs propios desarrollados en isadora y pure data, investigaciones con processing y c++, talleres, cursos y seminarios).
F*ck Vision lo formamos tres componentes: Javi, Oskar y Txampa. Tres buscadores incansables del diseño, del movimiento y su máxima expresión, de la imagen y su comunicación, del ritmo y su sincronización. Tres piezas clave ultradinámicas, tres pilares sobre los que se sustenta nuestra forma de vida.
"Dedicamos nuestra vida personal y profesional a la autogestión de nuestros sueños. Soñamos con algo que queremos y lo autoproducimos para conseguirlo. Tampoco madrugamos, ni tenemos horarios. Para nosotros esto es una filosofía de vida, nuestro leitmotiv, por el que hacemos lo que hacemos. No queremos ser otra mente plana en una oficina cualquiera. "
F*ck Vision hizo:
:: Fiesta de la Imagen . Space of Sound . Madrid . 2007
:: Taller de visuales "Creación visual a tiempo real. Vj" . Vjspain+Artenet . Madrid . 2007
:: Residencia Amnesia [ La Troya & Space of Sound ] . Ibiza . 2007
:: Residencia El Divino [ Penetra Ibiza ] . Ibiza . 2007
:: Creamfields Andalucía . Villaricos-Almería . 2007
:: Electromind Festival . Montpellier-Francia . 2007
:: Tilt Festival . Perpignan-Francia . 2007
:: Space of Sound Festival . Año Nuevo . Madrid . 2007
:: Residencia Mensual The Loft @ Razzmatazz . Barcelona . 2006 y 2007
:: Festival Klubber's Day . Madrid . 2006 y 2007
:: Exposiciones Instalaciones Interactivas MediaLab . Madrid . 2006 y 2007
:: Eventos Klubber's Meeting . Madrid . 2006 y 2007
:: Residencia Privilege [ Punkabaret + Acquaholic + Meganite ] . Ibiza . 2006
:: Múseo Reina Sofia . Madrid . 2006
:: IX Festival de Cine de Málaga . Málaga . 2005
:: Festival Pura Vida . Madrid . 2005 y 2006
:: Festival Ánimo .2 y .3 . Madrid . 2005 y 2006
:: Nitsa Club @ Sala Apolo . Barcelona . 2005 y 2006
:: Festival Internacional de Arte Contemporáneo . Barcelona . 2005
:: Festival Internacional de Teatro de Almada . Portugal . 2005
:: 1ª Muestra Nacional de Vj's . Madrid . 2005
:: Festival Sonorama . Aranda de Duero-Burgos . 2005
Related RSS Feeds