Find The Others
Joined

Location

Vancouver
Profile Images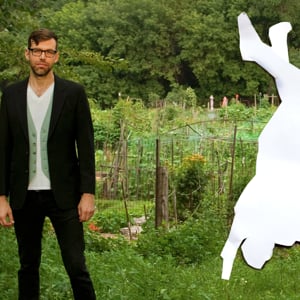 User Bio
"Focused and enthralling, Find The Others takes chamber-pop arrangements, delicate vocals, and other quelling quirks and turns it all into one of Canada's most spellbinding live shows. This duo isn't afraid to get sophisticated, but refuse to forget their audience. " - Halifax Pop Explosion
When Timothy Leary famously told a generation to "tune in, turn on, and drop out" a journalist asked him what to do next. His answer? "Find The Others."
Andy Sheppard dropped out of the conventional singer/songwriter world and tuned into more intriguing songs, mysterious lyrics, and mesmerizing visuals to create a vivid musical experience called Find The Others. An FTO performance is a feast for the ears and eyes, with synchronized visuals bathing the performers in light and colour. The Halifax Pop Explosion calls it "one of Canada's most spellbinding live shows."
The project was born out of connections with other forward-thinking artists and has led to collaborations with Valgeir Sigurdsson (Bjork), Olivier Alary (Cat Power), Jorn Anderson (Peter Gabriel), Mark Mariash (Royal Wood), Joshua Van Tassel (Great Lake Swimmers), Snowblink, and others.
Songs from the debut album have been featured as theme and background music in feature films, the viral YouTube video sensation, Sh*t Girls Say (35+ million views), in short films for the Tony Hawk Ride Channel, and in advertisements for companies such as Whistler Blackcomb and Indigo Books.
A new album, recorded in Iceland and Canada is set for release in 2015.
SELECTED PRESS
"Find The Others eschew the usual set of indie band influences in favour of a lush and sweeping sound reminiscent of Sigur Ros, or wunderkind New York Composer Nico Muhly. 'In Time' floats on a bed of vibraphone arpeggios and lush backing vocals, and it's the perfect soundtrack as the days get shorter. " - CBC Radio 3
"A potent, quietly mind-blowing cocktail as stately chords chime off the frets, hang in the air surrounded by looped samples and voices from old movies then drift off before being joined by Sheppard's own distinctive, intimate vocal melodies. " - Direct Current Music
"Find The Others is all about connectivity – across time, space, and between the personal and universal. " - National Post
Related RSS Feeds
Recent Activity
Fantastic! What a great project, and a great video. Who did the music?