Tomi Vollauschek
Plus
Joined

Location

London
Profile Images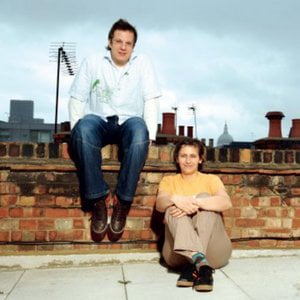 User Bio
FL@33 (LTD)
FL@33 is a multi-disciplinary design studio based in London. Its two founders, Agathe Jacquillat (French, from Paris) and Tomi Vollauschek (Austrian, but from Frankfurt, Germany), met on the Royal College of Art's postgraduate Communication Art and Design course in 1999 and set up their company after graduating in 2001.
Since then FL@33 has created an award-winning, internationally published body of work, ranging from self-initiated projects to commissioned work for clients from around the world, across many different sectors, regardless of size and budget. From logos to integrated identity systems, intriguing imagery to complete book designs, from poster campaigns to websites, moving image and interior design.
The founding directors have been described as multi-lingual, multi-specialised design activists consistently striving to exceed expectations of their demanding clients – using wit and humour to create fresh, imaginative and engaging visual communication, products and interior designs.
Agathe and Tomi are friendly, passionate and dedicated designers who give international lectures, judge, art direct, consult, design, curate, exhibit, contribute to books and magazines, conceive, compile, edit and write their own books, give workshops, and also develop design products for the studio's sister company Stereohype. Stereohype.com was launched in 2004 as an international platform for both emerging and established talents and is a T-shirt and button badge label with online boutique.
The two have also released widely-acclaimed, self-initiated and award-winning projects such as Trans-form magazine and the popular online sound collection project bzzzpeek.com that was also exhibited in New York's Museum of Modern Art (MoMA) in 2011.
FL@33 interviews, features and studio profiles have been published online and in more than 200 magazines, newspapers and books around the world – ranging from the lifestyle, art, design press including Computer Arts, Grafik, Étapes, Novum, Creative Review, RGB to The New York Times. Interviews with the duo also appeared on BBC Radio and NPR (America's National Public Radio).

The experienced duo often judge competitions and award schemes, including YCN, FITC, D&AD and Selected. FL@33 also lectures at international design conferences and colleges such as Selected A – Graphic Design from Europe in Barcelona, Spain (2010), CPH:typo*12 conference in Copenhagen, Denmark (2012), High Noon Special, Darmstadt, Germany (2013) and as part of a MICA design residency with lecture and workshop in Baltimore, MD, USA (2013).

A FL@33 monograph was published in 2005 as part of the bilingual (English and French) design&designer book series by Pyramyd Editions.

Three other books conceived, compiled, written, edited and designed by FL@33 have been published by Laurence King: Postcard appeared in 2008, followed by Made & Sold: Toys, T-shirts, Prints, Zines and Other Stuff in 2009 and more recently The 3D Type Book in 2011. Postcard was also translated into French (Cartes Postales, Pyramyd Editions), German (Postcard: Postkarten-Design heute, DuMont Buchverlag) and Spanish (Postales: Diseño por correo, Gustavo Gili).
The name FL@33 stems from the studio's first headquarters when they were still located in Notting Hill – a flat, yes, you guessed it – number 33. Since 2005 the duo are based in Clerkenwell.
They always try to keep their guideline 'Power of 3' in mind – an equal balance between intellect, skill and emotion – based on a philosophy they first heard about at the RCA.
The studio's past and current international clients include Royal College of Art, MTV Networks, the BBC, the Royal Festival Hall, Laurence King Publishing, Creative Review, Computer Arts, Groupe Galeries Lafayette, Matelsom, Habitat, Penrhyn Books, Weeks & Cowling, MMM-Festival and Friends of the Earth, beside many others.
59 Britton Street
London EC1M 5UU
T +44(0)20 7168 7990
flat33.com – FL@33 v.3
stereohype.com – graphic art label / online boutique
bzzzpeek.com – amusing sound-collection
postcard-book.info – the first book conceived, compiled, written and designed by FL@33
madeandsold.com – the second book conceived, compiled, written and designed by FL@33
3d-type.com – the third book conceived, compiled, written and designed by FL@33
twitter.com/graphicflow
twitter.com/stereohype
twitter.com/flat33
twitter.com/bzzzpeek
facebook.com/pages/flat33London
facebook.com/pages/StereohypeLondon
uk.linkedin.com/in/tomivollauschek
pinterest.com/stereohype
Photo credits:
Gavin Roberts, gavinroberts.co.uk
Pic taken for a FL@33 profile in Computer Arts:
See flat33.com/index.php?page_id=206 (pdf, 0.4mb, available)
Related RSS Feeds