Fonema Consort
Joined

Location

Chicago, IL
Profile Images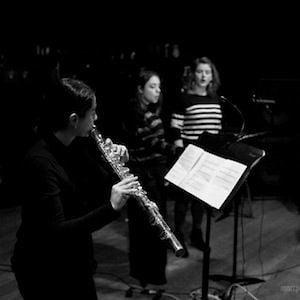 User Bio
consort : a group of instrumentalists and singers performing together
fonema : (Spanish, phoneme) the smallest unit of speech, which distinguishes words according to their sonic quality.
These concepts define the essence of Fonema Consort, as we endeavor to diffuse and expand the repertoire of 20 and 21st century vocal and instrumental music, and live out our fascination with the exploration of vocal possibilities in music, including the traditional presentation of a text, the breaking down of words into phonemes, or the total absence of words, and the ramifications thereof.
Formerly known as Ensemble Vulpine Lupin (EVL), Fonema Consort was founded in October 2011 by singer Nina Dante, and composers Pablo Chin and Edward Hamel, to provide a collaborative space between emerging composers and performers that would foster their passion and skills in the performance of new vocal music. Since its founding, Fonema Consort has put down roots to become a national and international performing entity, which in these formative years of development we strive to build upon.
Believing that new music offers a journey of discovery for the performer and listener alike, Fonema Consort strives to perform in intimate spaces, bringing musician, music and listener into close proximity. Above all, we hope that our audience will join us on this journey at the edge of musical and linguistic discovery.
Related RSS Feeds