futuretro
Plus
Joined

Location

Farnham, Surrey, England.
Profile Images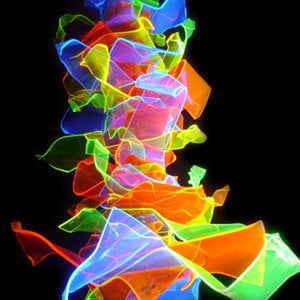 User Bio
futuretro.co.uk
Futuretro creates interactive light sculptures that are inspired by the natural world, dreams and inner visions.
Futuretro [pronounced future-retro] is my creative alias and it symbolises a harmonious 'balance of opposites'. The general theme of my work is the flow and balance of energies. I like to express and share my energy by channelling it into my creations; they are physical representations of the energy that flows through my soul. It is my aim to make unique, eye-catching sculptures for people to enjoy, in the hope of promoting and spreading positivity.
It is possible to interact with Futuretro light sculptures by changing their shapes, patterns and colours using various processes and technologies. Some of the light sculptures also have the additional interactive quality of being responsive to sound and music.
Due to my increasing concern for the wellbeing of nature I evolved my form of artistic expression in order to account for its environmental impact… I started heat-sculpting discarded offcuts of acrylic. This technique allows me to create fluid, organic compositions that represent my perception of nature's energy. Because of this 'nature synthesis' and the 'balance of opposites' between the natural forms that I sculpt and the synthetic quality of the acrylic, I call these sculptures 'Naturesynth'. In order to reduce waste and energy consumption most of the components that I now use to create Naturesynth sculptures are sourced by recycling scrapped materials. My hope is that Naturesynth sculptures can spread positive energy through an environmentally friendly and sustainable creative process and help to raise awareness of the necessity for humans to live in harmony with nature.
Futuretro sculptures are Carbon Balanced; I offset any unavoidable carbon emissions that are associated with their creation. Futuretro also supports: Greenpeace, the World Wide Fund for Nature, the Royal Society for the Protection of Birds, Rainforest Concern, the Rainforest Foundation and the World Land Trust.
"Humans did not weave the web of life; we are merely a strand in it. Therefore, what we do to the web we do to ourselves. We must be at peace with the oneness of all life's energy in order for harmony to arise. Unity with nature is the key to a positive progression."
Jamie Barrett – Futuretro. (Surrey Artist of the Year 2010).
Related RSS Feeds