martin halle
Plus
Joined

Location

Vancouver, Bc, Canada
Profile Images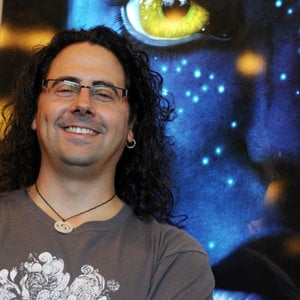 User Bio
Born in Quebec City, Martin Halle graduated from college in Graphic Design and work in the advertizing industry for several years before moving in Vancouver in 1996 to realize one of his child dream to work in the movie industry. Knowing that the future lays in computers, Martin try to find a school that teach visual effects. After looking at school around the Country he enrolled at The Art Institute of Vancouver - Burnaby and graduated in the Visual Effects Digital Animation Masters program.
He later went to work at Stargate Digital Vancouver. Where he took the position of lead of the 3D department. Working on such projects as The Dead Zone, Jake 2.0, E.R., Las Vegas, C.S.I., Carrie, Helen of Troy, white noise, Treat Matrix, and more.
He moved on a few years later to start the 3D department at a new branch of Spin VFX in Vancouver. Working on more television series but also lots of commercials and a few features. Also getting to move on and work on set as an assistant supervisor on the film "Like Mike 2: streetball" and set supervisor on commercial for subway and others.
After a few years at spin, Martin Halle moved on to become a freelancer working on many projects at a few different company. Starting with Blades of glory at Rainmaker, followed by Pirates of the Caribbean 3 at Industrial Light and Magic, and a few features for Technicolor. He also supervised on Set for a couple features for the Sci-Fy network. After that he went back to ILM to work on the last installment of Indiana Jones. His last completed project was for MPC Vancouver on the Watchmen.
After Watchmen I moved to Wellington New Zealand to work at Weta on James Cameron new feature "Avatar"... There I got put in charge of creating an animation and render rig for the ampsuit gun fx. I also created a rig for the missile trail and smoke bomb fx but ended doing 90% of all the missile trail in the movie.
After my return to New Zealand, I move to Australia to work at Rising Sun on Harry Potter and the Deathly Hallows part 1. Working on an rig to transfer the head animation back and forth from Maya to Houdini. I also worked on a general environment field. But I left the project early after the passing of my father.
I move back to Vancouver in January 2011 to work at Prime Focus for Final Destination 5. Doing water simulation using Naiad.
I am now working at Rhythm and Hues since September 2011. First doing water simulation for the dolphin stampede and the swimming pool sequence, on award wining, Ang Lee's "Life of Pi", using Naiad and houdini. Moving on to destruction, water, blood and magical effects on R.I.P.D.
Related RSS Feeds