Mansinet
Joined

Location

Rome Italy
Profile Images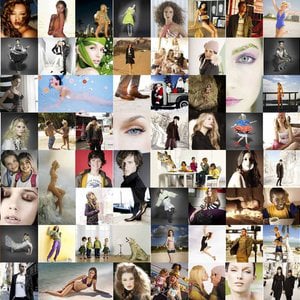 User Bio
Gaetano Mansi is a dynamic fashion and advertising photographer based in Italy. Stepping into fashion after his architectural and still life reputation was established, he has quickly developed his credentials as a fashion photographer. Leading advertising agencies seek out Gaetano for creative concepts for fashion catalogues and advertising campaigns.
Many of his clients trust him to produce their entire corporate image. With his network of the best fashion stylists, hairdressers and makeup artists, he is an active personal collaborator with the world's top modelling agencies.
Gaetano Mansi describes himself as a nomad, and his photographic style reflects a nomad's yearning for large open spaces, natural light, and exotic atmospheres. His photographic images are joyous and incisive, with great attention given to light; energy and vitality are reflected in his subjects. His great passion for travel has matured into a process to organize photographic shoots "on location" in Italy and throughout the world.
Fotografo professionista con base in Italia, Gaetano Mansi ha a suo attivo una lunga carriera nel campo della fotografìa di moda e pubblicità. Dopo una rapida e fortunata carriera come fotografo di architettura e still life, il suo interesse si è ben presto spostato sulla moda. Collabora regolarmente con varie agenzie pubblicitarie per le quali interpreta i suggerimenti creativi per cataloghi e campagne, ma ha nel suo portfolio un folto numero di clienti che gli affidano totalmente la realizzazione della loro immagine.
Egli è perciò in contatto con i migliori fashion stylists, hair e make up artists, e ha rapporti personali e continuativi con le più importanti agenzie di modelle in tutto il mondo.
Gaetano Mansi si autodefinisce "nomade". Questo si riflette nel suo stile di fotografìa, che ama soprattutto i grandi spazi, la luce naturale, le atmosfere insolite o esotiche. Le sue immagini fotografiche sono gioiose e incisive, con una grande attenzione per i cromatismi; spesso coinvolgono più soggetti, per comunicare meglio sensazioni di vitalità ed energia. La sua grande passione per i viaggi influenza la sua vita professionale in modo determinante e lo ha reso un vero e proprio esperto di produzioni fotografìche, con una struttura di supporto che gli permette di organizzare servizi fotografici in "location" non solo in Italia ma in tutto il mondo.
Der in Italien lebende professionelle Fotograph Gaetano Mansi hat in seiner Laufbahn eine lange Karriere in der Mode- und Werbewelt zu verzeichnen. Nach einer schnellen und erfolgreichen Karriere als Architektur- und Stillebenfotograph hat sich sein Interesse schnell der Modewelt zugewandt. Er arbeitet regelmäßig mit Werbeagenturen zusammen, für die er kreative Ideen für Kataloge und Kampagnen ausarbeitet. Er hat in seiner Kartei eine große Anzahl von Kunden, die ihm die Gestaltung ihres Images anvertrauen. Mansi hat Kontakte zu den besten Modeberatern, Hairstylisten und Visagisten und pflegt den stätigen Kontakt zu den weltweit wichtigsten Modellagenturen.
Gaetano Mansi nennt sich selbst einen Nomaden. Das spiegelt sich auch in seinen Aufnahmen wieder, welche die große Weite, natürliches Licht und unübliche exotische Schauplätze zeigen. Seine Fotographien sind voll Freude und sehr prägnant, mit großer Beachtung des Lichts. Oft enthalten sie mehrere Objekte , um Vitalität und Energie zu vermitteln. Seine Leidenschaft zum Reisen hat seine Arbeit stark beeinflußt. Sie hat aus ihm einen wirklichen Experten auf dem Gebiet der Fotoproduktion gemacht. Eine perfekte Organisation erlaubt es ihm Fotoshootings nicht nur in Italien, sondern überall auf der Welt.
Related RSS Feeds