Georgi Vasilev - Bimbo
Joined

Location

Sofia, Bulgaria
Profile Images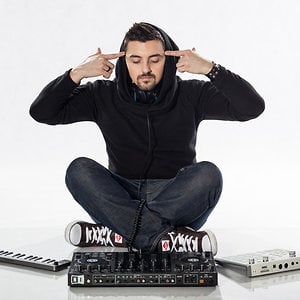 User Bio
Georgi Vasilev - Bimbo,
One of the rising stars of the Bulgarian electronic music scene, Bimbo quickly stood out as a representative of the unconventional electronic music and urban culture. With numerous musical experiments, he quickly accepted the image of an innovator and charismatic mentor for a new generation of audience, capricious in their musical preferences because of its mobility and social involvement.
His music impresses and fascinates the audience with interesting movie references (Charlie Chaplin speech from The Great Dictator) skillfully combined with its charming and mysterious folk music elements.
For several years Bimbo was actively building the creative aspect of his music. In 2004 he begun his study in New Bulgarian University specializing in Sound Design and Producing. In a large period of time he was experimenting with different styles, but electronic music was the one to inspire him the most. Inspired by some of the biggest names on the scene - Carl Cox, Mark Knight, Victor Calderone, John Digweed, Pete Tong and others he decides to devote himself entirely.
Exploring the depths of electronic music, Bimbo produces a number of tracks and countless mixes.
Some of these tracks are: Oriental Dreams, Wings, Slaves No More, Zombination, Pulsar, Evolving Universe, Just Another Day, We Are Not Machines (which addressed a number of pressing problems in society), The Beach House and many others.
Bimbo's collection includes a number of remixes of names from the British label Boomtic Records: Terry Oxby - Move To This, Flagpole & Magik also Karl Lost - Starship and I Love You, Oh So Much by the Canadians Le Profilique.
Slaves No More was issued by the New York electronic music label - System Recordings. This Beat Makes Me ... was sold in Beatport from the Columbian label Taux Music, Wings was released in all the top online stores from the British electronic music label for underground dance music - Boomtic Records, which also issued Sangre De La Puta.
In 2012 Bimbo joins the ranks of another British label - Twisted Beats.
His debut release for Twisted Beats was on 25.05.2012 with the track Oriental Dreams (in the top 10 best-selling tracks of the label) which was released as an EP, including also the non-oriental version Far From The Desert, which was featured in the prestigious techno compilation of the label LW Recordings - Global Techno Sessions Vol. 1 along names such as UMEK, Forest People, Marco Bailey & Tom Hades. New releases followed for Twisted Beats, as the british label brought to public Just Another Day, Evolving Universe, Zombination, Pulsar and also the EP The Tech EP. Bimbo's tracks are sold in some of the biggest music stores such as Beatport, iTunes, DJTunes, Amazon and many others.
Bimbo recently began work on an entirely new concept, which includes the great voice of one of the world-famous Bulgarian folk singers - Yanka Rupkina. The project is called The Voice of Bulgaria and seeks to restore the true brilliance of Bulgarian folklore popularizing it among young people by means of electronic music. Bimbo is also working with other young and very promising Bulgarian singers such as Joanna (ex Deep Zone Project). Their new co-project is entitled 'Paralyzed' and is expected to hit media in January 2014.
Untill recently Bimbo led his own weekly two-hour radio show called Bimbo's Weekly Selection, on the British radio for electronic music Audio One.
So ... Get ready to hear more and more this name because his passion for music did not recognize any borders.