Glenn Jones
Joined

Location

Atlanta, Georgia
Profile Images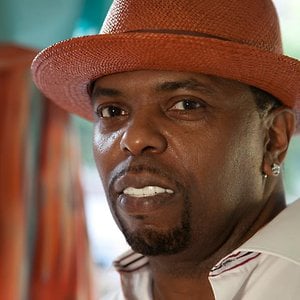 User Bio
For the few among us that don't know, GLENN JONES has seen it all, conquered it all and done it all. Thank God for us that he is doing it all again!! Jones voice penetrates the soul thru music and lyrics. Once you've heard "Here I Go Again," "We've Only Just Begun (The Romance Is Not Over)", "Baby Come Home" "I've Been Searching" "Show Me" and "I Wonder Why," chart topping hits from this gifted artist, there is no doubt that your soul has been touched. "EVERYDAY" the current single from the eagerly awaited album, will travel that same path to your soul. With his new single released on Monarchy Record Label a division of Spectra Music Group, Jones continues to lay the groundwork for new and upcoming vocalist to follow.
The album has allowed Jones to assume creative control of his destiny while reuniting with some of his most trusted colleagues from his over 30 year journey in the music industry. "Give it Time" was written by Barry Eastmond and Gordon Chambers and produced by Barry Eastmond. This dynamic team wrote "I Apologize" for Anita Baker and Eastmond produced the song. Eastmond has produced for Brandy, Brittany Spears, Michael Bolton, Freddie Jackson and the late Whitney Houston. "Long Term" is produced by Barry Eastmond and was a collaborative written effort by Jones, Eastmond and Jolyon Skinner. "All Over You" was written by Bob Baldwin, Dennis Johnson and Zzoiea Ohizep, produced by Dennis Johnson and Bob Baldwin. "Everyday" was truly a family reunion for Jones. He co-wrote this with longtime friend Ross Vannelli, the song is produced by Marque Walker. Jones is joined on vocals by his wife, Genobia Jeter Jones and their niece, Y'anna Crawley. Y'anna is the 2012 Stellar Award Winner for Best New Artist; she is also the 2009 Winner of BET's Sundays Best. This song also features background vocals by national recording artist Dave Hollister. The result is a smooth blend of family love, just wait until you get a taste of the flavor.
No stranger to pen and paper, JONES was nominated for a Grammy in (2003) and hasreceived the Stella award for his crafty lyrics, superior vocals and for lending his production talents to the gospel quartet, Canton Spirituals (Verity Records), garnering favorites including "Never Let Go" and "They Need to Belong." In conjunction with his writing, producing and recording schedule, JONES has spent time on the road gigging and most recently, added acting to his repertoire. Between album projects, he joined the casts of both "The Devil Made Me Do It" and "When a Woman's Fed Up," touring across the nation for nearly two years. "We performed eight shows a week and I gradually saw my skills improving," he notes. "Learning to act has been great training for me as a performer." Recently Jones has had the opportunity to display both his talents and his patriotism. From March 4 – 16, 2011, Jones toured Iraq and Kuwait performing for the troops who fight every day to protect our freedoms. Jones is excited about a project he just finished with John P. Kee. "Designed to reach a wide group of people" is how Jones describes his music. He sometimes observes the people at his shows; they range from 30 – 60 and Jones knows they are there because he is true to what he has established; a meaningful lyric, great melody and a very soulful and sincere sound.
A native of Jacksonville, Florida, JONES fondly recalls, "Since the age of 4 or 5, I've always loved music." Reared in the Pentecostal church, he often found himself risking punishment just to sneak a listen to the secular sounds of Stevie, Bobby, Marvin and Donny, in particular. Heavily influenced by the sounds of the time, JONES formed his first group, "The Modulations," at the age of fourteen and was later discovered by the late, great gospel legend, Reverend James Cleveland. Although he initially made his mark in the gospel arena, JONES' voice caught the ear of acclaimed musician, Norman Connors, with whom he toured and ultimately began performing R&B music. Having officially made the transition from gospel to R&B, JONES joined the roster at RCA Records. Four years later, he signed with Jive Records and enjoyed success with his self-titled album, which spawned the hit singles, "We've Only Just Begun (The Romance Is Not Over)" and "Stay," respectively. His move to Atlantic Records produced contemporary up tempo hits "Here I Go Again" and "I've Been Searching (Nobody Like You)." During 1998, JONES signed with SAR for the independent release of "It's Time," which sold nearly 200,000 copies, via a combination of internet, event and retail sales. In addition, the album included the hit single "Baby Come Home," a Top 5 R&B single that was one of the Top Ten Most Played Records for 2000, according to Billboard Monitor. Jones was overwhelmed by the success of his last project and feels blessed to have an underground fan base that has sustained his career for two decades. Marketing, imaging and sleek packaging aside, GLENN JONES clearly understands the dynamics of creating a solid vocal performance and has consistently delivered. "I've been in the game for over 30 years, and I am blessed to still be doing my thing. i owe it all to the creator. My mother told me two things that I'll never forget, and that is, my talent would make room for me, and that my life is in god's hands, and I believe that."
Related RSS Feeds