GlobalEyes TV
Plus
Joined

Location

Berlin
Profile Images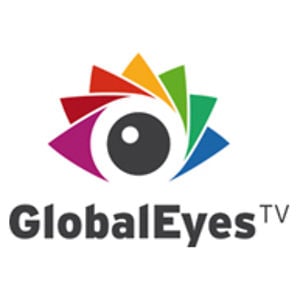 User Bio
GLOBAL EYES - TV FOR A GLOBAL YOUTH
GlobalEyes TV shows films made by and about young people from all over the world: Young people who take action and get involved in politics, environmental protection and culture – young people who care about global issues.
Global Eyes TV is an informative, inspiring and entertaining online platform and TV programme for youth that shows the world from the perspective of young people from around the globe. The objective is to promote more tolerance through intercultural communication with authentic, social and sustainable films about people, cultures and mother nature.
GlobalEyes TV: Internationally accessible world culture in TV format for youth
It is an internationally accessible world culture in TV format for youth, giving them a strong voice to express themselves and share their concerns.

GlobalEyes TV's role is to provide a platform and tools to encourage the youth to tell their stories with the camera to an international audience.
GlobalEyes connects people.
The project was founded in 2005 by the TV journalist Britta Mischer and by the filmmaker Nana Yuriko, to offer youth an alternative platform beyond the conventional youth programs seen on TV, with the goal to give young ambitious people from all over the world perspectives in the media, to generate intercultural understanding and to build a sustainable international network of young media-activists.

Youth does not want to be represented by casting shows, where teenagers sing the same songs all around the world. Music television only has to offer mainstream-pop, single- and celebrity-shows, mostly designed for the US-market.

When travelling throughout Europe, Asia and America, Britta Mischer and Nana Yuriko realised, that the world-wide youth has their own opinion on politics, environment and culture. They believe in a better world full of diversity.

In collaboration with the youth, the filmmakers shot reportages and portraits about their lives in their countries.

What do we really know about the youth in Africa, Asia, America, Australia and Europe?
What are the leisure activities of Palestinian kids? What are the latest trends in India? How political are German teenagers? How do young Peruvians protect their environment? What are the big dreams of young Mongolians? What are the goals youth from Burkina Faso are fighting for? Who is the biggest rock star in Iraque?

Of course we cannot give answers to all of these questions from the GlobalEyes base in Berlin. So we ask you to participate and tell us the hot stories from your country!
Join the GlobalEyes network! All young people from around the globe are invited to submit films. Many youth organisations and environmental NGOs have already made films on their work. All these videos can be presented on GlobalEyes TV.
So if you go on holiday with your video camera, feel free to interview the local youth and we are delighted to watch your exciting stories. The GlobalEyes network can only grow with your contribution.
A short manual and questions to the youth can be downloaded at the bottom of this page (PDF: Manual Global Eyes TV)

About GlobalEyes:
GlobalEyes is a non-profit organisation since autumn 2009, with the objective of to create a global network by implementing sustainable media-workshops in collaboration with international youth organisations, schools, foundations and NGOs in different countries.
The idea is to give interested and disadvantaged youth the opprtunity to experiment with video. They will learn differenent skills from interview techniques to the basics of shooting and editing. They become regional correspondents for Global Eyes TV.

In this way youth are given self-confidence and a strong voice in the public.
Possibly professional perspectives in the field of media will also be generated.

Invest and donate:
At present, the GlobalEyes TV team is financing the projects with its own limited means. But the mainainance of the website the establishment of professional mobile workshop teams requires urgent support in form money, material and manpower.

Time investions:
Participate at GlobalEyes TV! Grab a camera and shoot! In your house, in your country, in your world! We are looking for films for the sections Activism, Pespectives, Culture, Roots, Local Heroes and Speak Out!

Material donations:
For the GlobalEyes workshops we are urgently looking for used or new DV cameras, computers, microphones, headphones, tapes for youth.

Everybody, whether private persons or companies, is welcome to contribute.
GlobalEyes board members:
Britta Mischer: Britta studied Communication Design in Hamburg with a focus on youth issues.In 2001 she released the coffee table book "The youngsters - voices from the 13-30 year old (Die Jüngeren – Mitschnitte aus dem Leben der 13-30 Jährigen)" at Schwarzkopf Verlag. Since 2002 she has published documentaries and reportages as a TV editor for German TV channels like ARD, Arte, ProSieben and Kabel 1. Bitta has founded GlobalEyes TV and manages its editorial office.
Nana Yuriko: The German-Japanese filmmaker/multimedia-artist was born in Munich in 1973 and has spent her youth in Asia (Malaysia/Thailand/Japan). She has been living in Berlin since 1994.
After having worked as a graphic designer for several recording companies, since 1999 she has been focussing on TV/film/video.
She has realised many TV reportages for Arte, ARD and MTV, music videos, documentaries, DVD-productions and clips (author/director/camera/editor) in Germany and abroad.
Today her film work covers mainly global, socio-cultural, humanitarian and environmental topics. Nana has founded GlobalEyes TV and shoots, directs and edits for the program.
Bette Kolb: Bette is an editor and VJ for Deutsche Welle Fernsehen, Arte and WDR. She has a passion for coverages from all around the world, especially from South Africa. In Mitchell's Plain, a township of Cape Town, she has conducted a GlobalEyes TV Workshop in 2008.
Related RSS Feeds