God Loves Kids
Plus
Joined

Location

Rockwall TX
Profile Images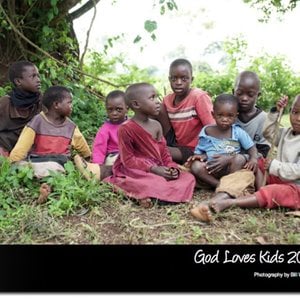 User Bio
God Loves Kids is a ministry of Christian Communications Commission, Inc. a 501(c)(3) non-profit organization.
God Loves Kids builds relationships between American Christians and formerly impoverished children in India, Africa (Uganda, Rwanda & Liberia) and Nepal. Our goal is to provide a way for Christian to act on Jesus' principle from Matthew 25:40.
"Whenever you did it for any of my people, no matter how unimportant they seemed, you did it for me."
We receive monthly sponsorship and support from our donors. We send the support to our trusted local partners in India, Africa (Uganda, Rwanda & Liberia) and Nepal. From there, these Christian pastors, school administrators, and teachers use the funds to provide a warm and loving home and community for needy children. Our shared goal is to make these children feel welcomed into Christ's family and allow them to respond to his grace.
Our children enter our program as victims of war, extreme poverty, AIDs, genocide, sexual abuse, and malnutrition, most grow into healthy, educated, and dedicated Christians who are ready to share Christ's love in their community. There is no age cut off when children are forced to exit our program. We foster a family relationship enabling our kids to grow into self-sufficient adults. We strive to build life long relationships and equip our kids for a life of active service for Jesus.
Many of our sponsored children have grown up and joined us in the work of inviting children into the family of God. We are very proud of our adult children. Many have become assets to their community, sharing the love and care they received. Some have even started schools, churches, and orphanages of their own.
Our sponsors are an active part of sharing the love of Jesus with their child. We encourage our sponsors to write letters, exchange photographs, and send funds for special gifts. Some of our sponsor's have experienced the joy of meeting their child, traveling to see the work of GLK for themselves. This is a seminal event in the life of a child who has lost their parents, finally meeting their sponsor is like a family reunion.
We respect the culture and wisdom of our school/children's home administrators to meet the needs of the children they care for in ways they find to be most effective. We foster accountability, good communication, creativity, and culturally appropriate problem solving. This atmosphere of trust is cultivated through annual visits by GLK staff where time is spent building a solid connection between us. Every effort is made to ensure the children are getting the best possible care and that funds are used wisely.
We welcome your questions feel free to contact us and we hope you will join us in the best work you will ever do -- love a child to Christ!
Related RSS Feeds