Profile Images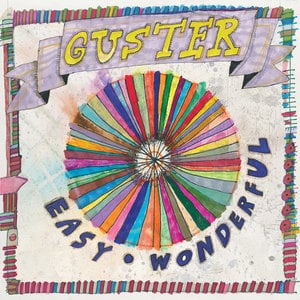 User Bio
GUSTER
Easy Wonderful
Available Everywhere.
Pop quiz, no cheating: name a band that, fifteen years on, is operating at the absolute peak of its creative powers, making the most inspired, timeless music and playing to the largest audiences of its career? The answers don't come easily, but we have one: Guster.
Few would have predicted the evolution that Guster has undergone, but then, Adam Gardner, Ryan Miller, Brian Rosenworcel and Joe Pisapia have been quietly confounding expectations since Guster began recording 15 years ago. With their new album Easy Wonderful, the quartet has made a piece of art that rewards each listen. With the reflective opener "Architects and Engineers," the pop gem "Do You Love Me," the optimistic anthem "Bad Bad World," the wall of sound production of "What You Call Love" and the haunting ballad "Stay With Me Jesus," Guster have created the best album of their lives.
The four-year gap between their last album, 2006's Ganging Up on the Sun, and Easy Wonderful was a bit longer than the quartet had anticipated. Miller admits, "I wish that it had taken two months instead of this long, but I feel like we did everything we had to do to make a great album." Work commenced in 2008 -- which was a big personal year for Miller, Rosenworcel and Gardner, as they all became fathers for the first time. To accommodate their growing families, the band decided upon a different tack in songwriting. Miller says, "Rather than the way it was before where we would live together for four months, this time we would work for like a week or two, break for a couple weeks, work on stuff on our own and then come back. We worked really well that way."
When Guster started thinking about going into the studio, they decided they wanted to work with an outside producer. Gardner explains, "We did the last record ourselves. But this time we thought, 'We all now have kids, we're all going to be fragmented, we're all going to be coming in and out of this process, we need somebody who's got their eye on the prize the whole time.'" After trying out a few different people, David Kahne (The Strokes, Paul McCartney) became the clear choice. Pisapia says Kahne impressed him with his ability to get inside their new material. "His notes on the songs were so astute and so attentive. He knew every part of every song and what was special about it. He spent a fair amount of time with us in rehearsal before we even went into the studio and he'd have very specific suggestions about certain parts – even how to play them."
The recording sessions were quick and efficient, but the group didn't feel fully satisfied with the results. Gardner says they made the decision to take a break from the recording process. "We all retreated to our corners. We all had to step away from it to see what we needed to do to improve it." During this break Miller started writing a couple of new songs by himself, but found he couldn't recapture the spark which had made the band's first group of songs so compelling. Miller credits a deep and soul-searching conversation with Rosenworcel in breaking his creative logjam. Miller says, "Brian and I had a conversation and it was like, 'Right, we can do this.' And I just kind of let go of everything. I just decided I was going to write music and I didn't care what it was. And then the floodgates opened, like it never had before for me. It was really amazing." In an explosion of creativity, Miller penned six songs in a couple of weeks. The band listened to Miller's demos and were thoroughly reinvigorated by the new material.
Guster reconvened in Nashville at Pisapia's brand new Middletree Studios, which the talented multi-instrumentalist built by hand with his fiancee. He says he wanted to make a comfortable place to work where "you could take a record from A to Z." And his three bandmates agree that he succeeded in creating a work environment that brought Easy Wonderful to the next level. Gardner says, "Physically and emotionally Joe's studio was so different, we'd been in this basement studio in New York City, cramped in this space with no windows that we jokingly called 'The Dungeon.' Joe's place is totally the opposite--, this stunning open-concept studio that has a great vibe. We found ourselves hanging out there even if we weren't recording. There was an immense feeling of freedom the moment we left New York and started recording in Nashville."
The quartet quickly recorded Miller's new compositions as well as tweaking a batch of songs they recorded with Kahne. The end result of the two recording sessions is what Pisapia calls "the classic Guster pop record. And that's what I always thought we should do. We had our period where we've tried on a lot of different hats and different musical costumes, which is a lot of fun. But this record feels a lot more germane to who the band really is." Rosenworcel adds, "When I try to describe our album to people I've been saying, we really just honed in on trying to write 12 great pop songs. I think Easy Wonderful is more consistent than anything we've done."
Gardner says that the process of creating Easy Wonderful has been a turning point for Guster. "I feel like we learned a lot and came out of it as stronger players, writers and record makers. We feel more energized about our music and playing together than ever. I think we've shot past where we've been and we've made a better record than we've ever made before."
So how does an album end up being called Easy Wonderful? Miller says his family was driving through Brooklyn one day when his wife spotted a sign that said "Easy Wonderful Corporation." Miller then told his bandmates about the sign in passing one day. "We had been talking about the album title and I told the guys my wife saw that sign. And Brian immediately said, 'I like Easy Wonderful a lot.' And I was like, 'That wasn't even a suggestion!'" Gardner feels the title is appropriate for the album he's most proud of in Guster's career. "It's a really accurate description of what making the record at Joe's was like. It was our best recording process ever. I think we're in the best spot we've ever been as a band working together, and it shows on this album."
Related RSS Feeds