Hubert Cheng
Joined

Location

Los Angeles
Profile Images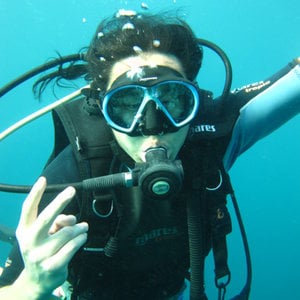 User Bio
Contact Email: hcheng158@yahoo.com
Feel free to private message or email me and say 'HI'! Or if you need ideas for a bad ass feature film, hit me up! I have devastating ideas that will change the world!
I'm always looking to meet and interact with artists, directors, producers, cinematographers, videographers, actors, actresses, compositors, and editors.
About me:
Old school 8mm, 16mm, 35mm film, and now HD 1080p @ 60p or 24p is my flavor. I'm on the fence with 3D Stereoscopic video. I'm gonna wait it out and study the future of this format.
If you need help or assistance on your film or HD project or film, just let me know. I live in the Los Angeles area, but I can travel anywhere in San Diego or up to Las Vegas to help you on your needs. I'm currently seeking web commercial work or music video productions. I'm usually free over the weekend when I'm not at work.
I'm also Padi Advanced Open Water Certified for Underwater Photography.
CURRENT EQUIPMENT:
Sony A77, 16mm-50mm 2.8f @ 1080p, 60p, 24p
Panasonic HDC TM-700 @ 1080p, 60p and 24p
Equinox HD6 Underwater housing
32 gig class 10 SD card
35mm wide angle adapter lens
Canon G12 720p @24p
WP-DC34 Underwater housing
Rode Mic
Micro beam 128 56k daylight and tungsten filter
Glidetrack Hybrid HD
Current Computer Rig (For 1080p @24p @60p + Red 4k):
Intel(R) Core i7-2600 CPU @ 3.40Ghz
16 gigs of DDR3 2000 Mhz
Nvidia GeForce GTX 570
Sony Vegas 10.0
Adobe Premiere CS5
Past Camera Experience:
Bolex 16mm
Krasnogorsk-3 16mm
Arriflex 16BL 16mm
Arriflex S 16mm
Arriflex BL 4 35mm
Arriflex 535A 35mm
STUFF I'D LIKE TO GET MY PAWS ON (HELP! I'D LOVE TO BORROW OR EXCHANGE FOR GRIP OR 2ND CAMERA OPERATOR):
LitePanels Ring Lights
LitePanels Micro Pro
ProAm HDMI montior
A Cute Puppy of any breed!
Related RSS Feeds