Profile Images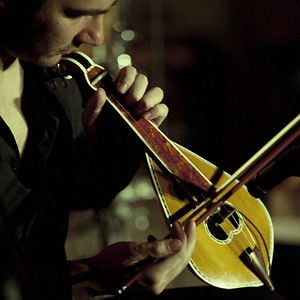 User Bio
Ο Ηλίας Ζούτσος γεννήθηκε στην Αθήνα και έχει καταγωγή από την Κρήτη και την Εύβοια. Η ενασχόλησή του με τη μουσική ξεκινά με την κρητική λύρα. Ακολουθεί το βιολί και οι κλασικές σπουδές σε Ελλάδα και εξωτερικό, και κάπου εκεί το τραγούδι, η κιθάρα και το λαούτο. Σήμερα είναι αριστούχος διπλωματούχος βιολιού (με την ανώτερη διάκριση του Α' Βραβείου Παμψηφεί και Αριστείου Εξαιρετικής Επιδόσεως) και Ανώτερων Θεωρητικών του Εθνικού Ωδείου Αθηνών, πρώτος αριστεύσας απόφοιτος και υποψήφιος Διδάκτωρ Μουσικολογίας του Πανεπιστημίου Αθηνών και μόνιμο μέλος της Συμφωνικής Ορχήστρας του Δήμου Αθηναίων (Α' βιολιά). Από το 2009 ξεκινάει γι' αυτόν μια γόνιμη περίοδος προσωπικής δημιουργίας πάνω στη μουσική αλλά και σε στίχους και τραγούδια. Μέρος αυτού του υλικού εκδόθηκε με τις δύο πρώτες δισκογραφικές του δουλειές "Σημείο" (2012) και "Ρίζα" (2013), που κυκλοφορούν από την ANTart Productions.
Έχει παίξει και τραγουδήσει σε κάποιες από τις μεγαλύτερες αίθουσες και χώρους συναυλιών στον κόσμο: Teatro Real-Μαδρίτη, Αρχαίο θέατρο Εφέσου, Town Hall-Νέα Υόρκη, Μέγαρο Μουσικής Αθηνών-Θεσσαλονίκης καθώς και στην Ακρόπολη για την Παγκόσμια Ημέρα Μουσικής του 2012, που ως σολίστ στο βιολί ερμηνεύει Beethoven και Saint-Saens με τη συνοδεία της Συμφωνικής Ορχήστρας του Δήμου Αθηναίων. Συνεργάζεται με τον Αυστριακό βιολιστή Lukas David, το Γιάννη Μαρκόπουλο, το Θανάση Παπακωνσταντίνου, το Ross Daly, το Γιάννη Χαρούλη και τον Ψαρογιώργη. Έχει συνεργαστεί επίσης με το Αμερικάνικο Δίκτυο Τηλεόρασης NBC δίνοντας μουσική του για σειρά ντοκιμαντέρ.
Official Website: iliaszoutsos.gr/
Ilias Zoutsos was born in Athens and he is descended from Crete and Evia. His first contact with music starts with the cretan lyra. A few years later he takes up learning the violin and studying classical music in Greece and abroad and not much time later the guitar, the lute and singing come into his life. Up to today he has had a diploma in violin (gaining the highest grade of First Prize Unanimously and High Distinction for Exceptional Performance) and theory of music from the National Conservatory of Athens. Furthermore, he has graduated as a distinguished student and first of his fellow-students, now being a candidate as a Ph. D. of the department of Musicology in Kapodestrian University of Athens. Moreover, he works as a violinist in the Athens Symphony Orchestra and he is a permanent member of it (First Violins). Since 2009 he has had a period of great personal creativity concerning composing songs. A part of this work are his two first CDs entitled "Simio" (2012) and "Riza" [Root] (2013), which are released by ANTart Productions.
He has performed in some of the most important concert halls of the world: Teatro Real - Madrid, Ancient Theatre of Ephesus, Town Hall - New York, Megaron Concert Halls (Athens and Thessaloniki). He also performed at Acropolis for the International Music Day 2012, playing Beethoven and Saint-Sans as a soloist, accompanied by the Athens Symphony Orchestra. He co-operates with the Austrian violinist Lukas David, G. Markopoulos, Th. Papakonstantinou, Ross Daly, G. Haroulis and Psarogiorgis. He has also co-operated with the American TV network NBC, composing music for a series of documentaries.
Official Website: iliaszoutsos.gr/
Related RSS Feeds