Franc Peret
Plus
Joined

Location

Shanghai (China)
Profile Images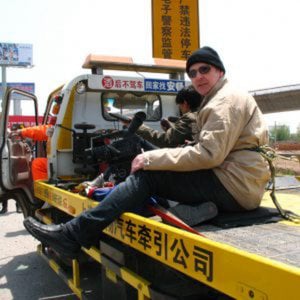 User Bio
I am a western Director of Photography, Cameraman and film Director living and working in Shanghai since 2005. You can get my whole story here; francperet.com and here cn.linkedin.com/in/francperet.
facebook.com/francperet.filmandphotography/about
I was also running photography and filmmaking classes in Shanghai at ELC (Expat Learning Center) from 2005 to 2014. ELC closed down and i created my own film making and photography school since 2014. Check my website francperet.com.
Prior to this, from 1986, I worked as a photo journalist, correspondent for Western magazine in travel, sports, car and motorcycle industry.
I am living in Asia (Taiwan, Japan and now China) since 1994.
In Taiwan for 3 years, from 1994 to 1997, I started to work as a still photographer for movie industry and then I, step by step, became a first assistant director and finally a cameraman and DP.
As photographer, I collaborate to 3 feature films: "Red Kaki", "Superman get a Mask", "Like a stone in the street" and many MTV (Friendly dogs production).
I shot my first movie as Director of photography in 2000: "Summers" directed by Dai Li Ren - Leon Dai.
I started working for video commercials in Japan, while shooting documentaries for European TV program as well, from 1998 to 2003
Since I am in Shanghai, I am mostly working for TV commercial, product video, corporate video and Short-movies as a script-writer, cameraman, Director, photographer and editor.
I am making my way in car industry, beauty product, technology and industry. Some projects are close to documentaries with lots of B-roll and interviews. I like both, finding inspiration for shooting moods and answering the challenge to set up good lighting in any condition and time framing.
I am mostly working with local crew and production from Shanghai, Beijing, HKG, Taiwan or Singapore.
Certified "Crews Control" Director of Photography, I am also often hired to direct and shoot complete project for big companies based overseas, essentially in US. This label certify that I am able to deliver the exact same quality job as US based Crew member.
See detail here: crewscontrol.com/
Production in China is a tough world, but shooting is my life and I am enjoying the challenge which forces me to improve continuously..
I was also teaching photography to expatriate from all over the world for the Expat Learning Center for 9 years, I taught to more than 700 adult students aged from 18 to 65 yo.
I am running a film-making class since 5 years and lots of video posted here are related to my work with my students. It became one of my favorite activities as I love teaching and sharing experience with fresh minded people. Also this 25 hours program is very challenging as we get only 15 hours shooting time to complete a short story each term. I always get inspiration from my student's personality. Ideas are never a problem, I get plenty!
Teaching full time could be my future life, especially if I can do it for a Movie-making school, but I still need to shoot stories!
I am still looking for partnership in film making project; shooting another feature film is one of my goals. I would like to offer my long experience, fresh motivation and numerous skills for the good of a meaningful project with professional minded people who have skills and who knows what they are doing.
It can be here (in Asia) or anywhere else in the world. If you need someone like me, do not hesitate to contact me. I will be more than happy to work on a project with you, in China, US, France, HKG, Taiwan, Japan or wherever you are!
I am fluent in French, Chinese and English. I get basic Japanese knowledge. Nowadays, I mostly communicate in Chinese and English,.
Franc Peret
Contact: imaginefocus@hotmail.com
Get detail information here: cn.linkedin.com/in/francperet
Related RSS Feeds