Janeann Dill: IIACI
Joined
Profile Images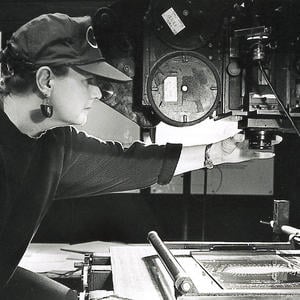 User Bio
For Janeann Dill, a personally defining moment took place when she was an Artist-in-Residence at the American Center In Paris.
"I was walking from the Pompidou Center to Les Halles and feeling a great sense of personal loss because of the recent death of my mother. Peter Greenaway dubbed this my 'Road to Damascus' experience. On the plaza of the Fountain des Innocents (a monument to mothers and children killed in the French revolution), I imagined what only could be called a 'vision' for my paintings. In that moment, my mind's eye saw my paintings move in time and I imagined what I saw was called 'animation'."
Thus for more than twenty years, Janeann Dill's work has been a productive investigation of the intersections of painting, film, animation, and critical discourse. She received her B.A. (in painting/drawing/printmaking) and M.A. (in painting and drawing) from the George Peabody College of Vanderbilt University. Dill earned her M.F.A.in 1994 from the Experimental Animation Department at California Institute for the Arts (CalArts) in the School of Film and Video where Jules Engel and William Moritz served as her mentors. A filmmaker, scholar, and artist, Janeann Dill earned her Ph.D. in 2006 in Media Philosophy from the Swiss-German institutional brainchild of philosophers Jean-Francois Lyotard and Wolfgang Schirmacher. The Europäische Universität für Interdisziplinare Studien was approved and accredited just months before Lyotard's death in 1998 and opened its doors in 1999.
Stemming from her work at CalArts in experimental animation film and her interdisciplinary Ph.D. research, Dill is currently writing for publication two forthcoming books, "Thought and Timing: Philosophy of Experimental Animation" and "Jules Engel: A Biography." The work on Engel is the authorized biography of a seminal figure in contemporary animation history and praxis. "Thought and Timing" promises to provide a ground-breaking historical and theoretical understanding of the context and nature of experimental animation. An additional manifestation of her productive fusion of art practice and critical thinking is her recently founded online Think Tank, IIACI: Institute for Interdisciplinary Art and Creative Intelligence. interdisciplinaryartinstitute.com
Dill's most ambitious interdisciplinary project, "MAH: Moving Around Heidegger," is a multi-screen video installation (Produced and Directed by Dill as a collaborative project with poet Hank Lazer (Pultizer nominee), a dome projection that immerses the viewer in a world of animated time and movement, and short theatrical experimental animation. An early stage of this larger project, "MAH: Meditate," was selected by curator Judith Nothnagel for showing in GlobalScreen and to tour Europe and Asia 2009-2010 for exhibition in several museums in Germany, Senegal, Greece, Sarajevo, Italy, South Africa, and Malaysia.
Janeann Dill's distinguished career as a painter and filmmaker is reflected by her many grants: an Ahmanson Foundation grant, an Annenberg Foundation Independent Media Artist grant, a James Irvine Foundation grant, a Mary Lou Boone grant for Performance in Experimental Animation and Choreography, and three regional Artist-in-the-School residency grants from the National Endowment for the Arts. Janeann Dill's film "Paris is a Woman" has been nationally and internationally selected by curators to screen in venues as varied as Miami's Bass Museum of Art to international film festivals in which she has received awards for Best Experimental Short Film and Best Directorial Debut for a Short Film. Dill's creative practice and critical scholarship were showcased at the American Film Institute, Silver Screen Theater, Maryland in 2004 (Gabe Waddell, Curator). Her fine art is in numerous art museums and private collections, including collections at Vanderbilt University, the Tennessee Arts Commission, the Landmark Center (Life and Casualty Corporate Headquarters in Nashville), the American Embassy in Paris, and the Hauppage Corporate Center (which awarded Dill a $24,000 commission for a monumental painting). Selected to represent the American Embassy in Paris at the Festival Internationale des Peintures de Cagnes sur Mer, Dill won a Prix D'Or (selected from numerous entrants representing over twenty countries) for her monumental painting (6' X 18') "The Night the Moon Touched the Earth."
Janeann Dill has presented papers at numerous national and international conferences. In 2009, she was Chair of the College Art Association panel "Thinking Experimental Animation BEFORE William Kentridge: An Art Historical U-Turn." She was one of three keynote speakers for the 2006 Danish Animation Studies Conference directed by Samuel ben Israel held at the University of Copenhagen's Film and Cognition Department where Dill spoke on "Philosophy of Experimental Animation: The Question of Cinema in a Fine Art Discipline." Her article "Jules Engel: Film Artist, A Painterly Aesthetic" was nominated by the National Film Board of Canada and Society for Animation Studies for the Norman McLaren and Evelyn Lambert Award for Best Scholarly Article on Animation. Harvard University Film Archive subsequently reprinted this article in 2000 as part of a retrospective of Engel's work. Dill is Jules Engel's official biographer, and she has received a research grant from the iotaCenter to author a historical first Artist's Monograph on Jules Engel. Article published by Mass Humanities Council: valleyadvocate.com/blogs/home.cfm?aid=14783 jules-engel.com
In addition to her two-year residency as a fine artist/painter at the American Center in Paris, in 2003 Dill was awarded an artist's studio/loft in Baltimore as an Artist-Filmmaker in Residence at The Patterson Theater, Creative Alliance. Dill's national and international recognition as a scholar and artist is reflected in numerous invitations to serve as a panelist and referee. Dill has served the U.S. Department of Education as referee in Studio Arts for MFA grants for the Jacob K. Javits Program, for Funds for Improving Post Secondary Education (FIPSE: Humanities, Visual and Performing Arts, Film and Media Studies). She has served on the SIGGRAPH grand jury for the 2008 Art Gallery Exhibition and as an online Juror for the SIGGRAPH 2007 Art Gallery Exhibition. Dill is a member of the Board of Directors of the Alumni Association of California Institute of the Arts and is on the Advisory Board for the Julia Spears Foundation.
To download curriculum vitae: interdisciplinaryartinstitute.com/About_IIACI.html