Jean Sandoval
Joined

Location

Meriden, CT
Profile Images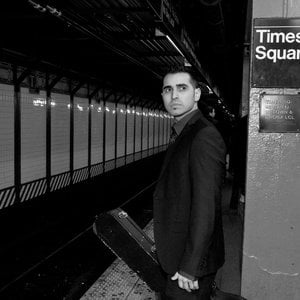 User Bio
Jean Sandoval, guitarist/songwriter/producer, has been blending many sounds and cultures for many years to create a diverse sound that reaches every generation, all cultures and all backgrounds. "I've never been satisfied with one genre, my ear goes all different directions" says Sandoval. His writing and arranging is relevant to what is going on in the world today and to our everyday lifestyle. "I'm much more interested in connecting with people through music then showing off some kind of talent. Music is a very powerful tool that every musician has been responsible with, and we must use it wisely."
Sandoval has studied privately with Mark Whitfield (Sting, Mary J. Blige, Lauryn Hill, Chris Botti), Avi Bortnick (John Scofield), Phil Forbes, Fuzz (Deep Banana Blackout, Caravan of thieves, Tom Tom Club), Jamie Begian, Chris Morrison, Chris Russo (Joe) and George Raccio. "The more and more I learn, the more I feel like I know nothing, and that inspires me to learn even more. As a musician, I truly feel like a student 24 hrs a day."
Jean has performed with many artists either on the road, in the studio or in a live setting, including Juan Carlos Alvarado, Promise Keepers Band, Freddy Rodriguez, Cosmic Jibaros, Mike Smith Band, Rachel Washington, Boogie Chillun, RuthAnn Ridley, Dayna Varga, Garrison Project, 506, The Evolved, Stephen Wilson & DWB, After Autumn, Traci Snowe, Hot Soup, and many others.
Currently arranging and producing music for many upcoming artists, touring as one of the music directors for the Promise Keepers Conferences all over the U.S. (promisekeepers.org), as well as Directing the music ministry at New Life Church (innewlife.com) in Meriden, CT where he leads Worship every Saturday Evening at 5pm and Sunday mornings at 262 Bee St. Meriden CT (9am and 11am) and at Wallingford's Oakdale Theatre at 10am.
Related RSS Feeds