Jey77
Joined

Location

jey77.com
Profile Images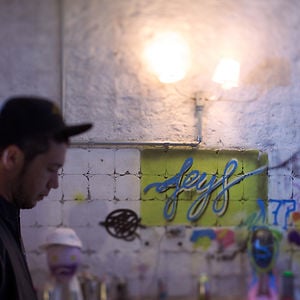 User Bio
Artista plástico, sim. Com a consciência de que a vida e as almas humanas precisam muito mais do que plasticidade para se alimentar, questionar e evoluir. Flávio Ferraz é um pensador da arte, usando formas e cores para transportar uma duradoura mensagem de conforto mental. Sem ser urgente ou instantânea, sua arte consciente é moldada na espiritualidade e constante busca de elementos que tragam uma percepção positiva da vida e suas possibilidades.
Através de esculturas, instalações, pinturas ou suportes audiovisuais, a mensagem se propaga de maneira fluída, sem fronteiras ou comportas. Jey enxerga limite apenas no respeito ao trabalho de outros artistas. Em prol do planeta e da natureza, sua expressão é interação sincera com a amplitude da cidade e o íntimo das pessoas. O artista reside em São Paulo (SP).
contato@jey77.com
Artist, yes. With the awareness that life and human souls need much more than plasticity to feed, question and evolve. Flávio Ferraz is a thinker's art, using shapes and colors to convey a lasting message of mental comfort. Without being urgent or instant, his art is consciously modeled on spirituality and the constant search for elements that bring a positive perception of life and its possibilities.
Through sculptures, installations, paintings or audiovisual media, the message spreads so fluid, without borders or gates. Jey sees a limit only in regard to the work of other artists. For the sake of the planet and nature, its expression is sincere interaction with the amplitude of the inner city and the people. The artist lives in São Paulo (SP).
contato@jey77.com
Related RSS Feeds